Qualcomm to Promote Key New FIRST Initiative in China
MANCHESTER, N.H.--FIRST (For Inspiration and Recognition of Science and Technology), a not-for-profit organization founded by inventor Dean Kamen to inspire young peoples interest and participation in science and technology, today announced Qualcomm Incorporated will return as the 2015 FIRST Championship Presenting Sponsor. The FIRST Championship will be held in St. Louis, Mo., April 22-25, 2015.

Qualcomm was recently named a FIRST Strategic Partner, the highest sponsorship level at FIRST, in recognition of the companys volunteer hours recorded and regular financial support. Qualcomm, which is committed to building a STEM (science, technology, engineering and mathematics) pipeline, has supported FIRST since 2007, supporting teams in the FIRST Robotics Competition (FRC), as well as contributed to non-employee Mentor stipends for that program. The company has also supported the FIRST LEGO League (FLL) Global Innovation Award, and the FIRST Tech Challenge (FTC) Super-Regional events in the United States.
FIRST has also announced Qualcomms increased support for the promotion and development of the international, K-12 robotics STEM learning organization to include the FIRST Tech Challenge program, teams, and events in China.
For the 2014-2015 FIRST season, Qualcomm will support and work with FIRST and SEMIA Ltd., a partner of LEGO Education, to: promote technology education in China/Hong Kong; significantly expand the number of FTC teams in the country; and bring competitions to new cities in China. The new cities which will hold FTC competitions include: Beijing, Shanghai, and Shenzhen. Qualcomm will also provide support for other FIRST programs including the Junior FIRST LEGO League (Jr.FLL) program for ages 6-9, and the FIRST LEGO League program for ages 9-16 with events and teams in other regions of China.
"We applaud Qualcomm for its continued support," said Dean Kamen, FIRST Founder and President of DEKA Research & Development. "Since 2007, when Qualcomm joined with us, our combined passion for teaching innovation to kids and our dedication to supporting STEM learning across the world has benefited thousands of K-12 students. Together with Qualcomm and SEMIA, we look forward to expanding FIRST programs to even more regions inside China."
"We are honored to be a long-time supporter of FIRST programs and to again be recognized as the 2015 FIRST Championship Presenting Sponsor," said Matt Grob, executive vice president of Qualcomm Technologies, Inc. and chief technology officer of Qualcomm Incorporated. "Qualcomm is committed to fostering future inventors, and to supporting and inspiring young people worldwide to engage in STEM programs. We are also excited to help grow the FIRST Tech Challenge program in China."
With more than 14 years of experience promoting technology education in China, including working and promoting the platforms for international robotics competitions, SEMIA Ltd. is a valuable asset in the expansion of the FIRST Tech Challenge program in China.
"We are working to bring the best education philosophy and educational tools to Chinese students and teachers through our different programs," said Eugene Zhang, CEO of SEMIA Ltd. "The commitment FIRST has to STEM education and Qualcomms deep roots in the technology space will undoubtedly offer an unparalleled learning experience to students and future inventors here."
The FIRST Tech Challenge program in China will bring together more than 3,000 students with almost 300 teams and tens of thousands of spectators to 8 cities. Other FIRST Tech Challenge global sponsors include the Official Program Sponsor: Rockwell Collins, and the FTC CAD & Collaboration Sponsor, PTC.
About FIRST
Accomplished inventor Dean Kamen founded FIRST (For Inspiration and Recognition of Science and Technology) in 1989 to inspire an appreciation of science and technology in young people. Based in Manchester, N.H., FIRST designs accessible, innovative programs to build self-confidence, knowledge, and life skills while motivating young people to pursue opportunities in science, technology, and engineering. With support from over 200 of the Fortune 500 companies and more than $20 million in college scholarships, the not-for-profit organization hosts the FIRST Robotics Competition (FRC ) for students in Grades 9-12; FIRST Tech Challenge (FTC ) for Grades 7-12; FIRST LEGO League (FLL ) for Grades 4-8; and Junior FIRST LEGO League (Jr.FLL) for Grades K-3. Gracious Professionalism is a way of doing things that encourages high-quality work, emphasizes the value of others, and respects individuals and the community. To learn more about FIRST, go to www.usfirst.org
Featured Product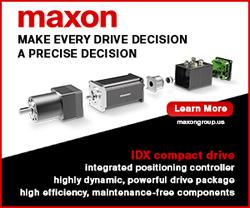 Discover the world of drive technology from a leading worldwide supplier of innovative customized drives. - Manufacturer of brushed and brushless DC motors, gearheads and motion controllers - Custom drive systems, quantities as low as a single unit - Certified for aerospace and medical applications