Baxter Research Robot Powers Education and Innovation for the Next-Generation Workforce
BOSTON, Oct. 21, 2014 -- Rethink Robotics' Baxter Research Robot has won a RoboBusiness 2014 Game Changer Award for Education, as announced during the 10th annual robotics conference in Boston last week. According to the Robotic Industries Association (RIA), the Game Changer awards recognize "the robotics industry's remarkable technical accomplishments and their makers" for products demonstrating standout attributes in design, functionality, benefit to robotics and impact within its primary application area.

With users in 18 countries, across five continents, the Baxter Research Robot is inspiring educators and students alike in:
*Colleges and universities around the world where Baxter is at the heart of pioneering research in human-robot interactions, human assistive, manipulation and mechatronics applications.
*Technical certification and adult education, providing an affordable platform for trade professionals to learn valuable job skills
*K-12, by granting students unprecedented access to safe, interactive robotics to foster an early affinity towards STEM.
"Baxter gives educators a safe, engaging, and affordable way to introduce students of all ages to robotics," said Scott Eckert, CEO of Rethink Robotics. "Educators, students, and researchers are finding new ways for humans and robots to work together with exciting implications for the next generation workforce."
"Game Changers is an awards program for robotics visionaries," says Tom Green, Editor in Chief, Robotics Business Review. "These winners represent products leading the way in critical technology categories. Long after the award presentation, Game Changer Award winners remain in the public eye, as they should."
Learn more about Rethink Robotics today, and see Baxter in action on our YouTube page.
Rethink Robotics
Rethink Robotics, Inc. helps manufacturers meet the challenges of an agile economy with an integrated workforce, combining trainable, safe and cost-effective robots with skilled labor. Its Baxter robot, driven by Intera, an advanced software platform, gives world-class manufacturers and distributors in automotive, plastics, consumer goods, electronics and more, a workforce multiplier that optimizes labor. With Rethink Robotics, manufacturers increase flexibility, lower costs and can invest in skilled labor—all advantages in fueling continuous innovation and sustainable competitive advantage.
Committed to accelerating robotics innovation in manufacturing and beyond, Rethink Robotics' Baxter Research Robot gives academic and corporate research environments a humanoid robot platform with integrated sensors and an open software development kit for creating custom applications.
Based in Boston, Massachusetts, the company is funded by Bezos Expeditions, Charles River Ventures, Highland Capital Partners, Sigma Partners, Draper Fisher Jurvetson, and Two Sigma Ventures. For more information about Rethink Robotics, please visit www.rethinkrobotics.com.
Featured Product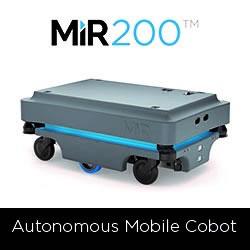 MiR200 is a safe, cost-effective mobile robot that automates your internal transportation. The robot optimizes workflows, freeing staff resources so you can increase productivity and reduce costs. MiR200 safely maneuvers around people and obstacles, through doorways and in and out of lifts. You can download CAD files of the building directly to the robot, or program it with the simple, web-based interface that requires no prior programming experience. With its fast implementation, the robots offers a fast ROI, with payback in as little as a year.