New Patent-Pending stealthChop Technology Delivers Exceptionally Quiet Stepper Motor Performance
HAMBURG, Germany--TRINAMIC Motion Control, a leading global developer of motor and motion control technologies, today revealed its latest patent-pending technology for stepper motors. Dubbed stealthChop, the new technology significantly reduces the noise of conventional stepper motor operation.

Motors operating at low speed exhibit a phenomenon known as magnetostriction, which causes an audible low frequency 'hum.' This low-frequency noise is well known as the 60Hz hum that emanates from transmission lines and transformers. Trinamic's stealthChop minimizes magnetostriction by implementing a PWM algorithm that relies predominantly on voltage modulation for motor control at lower speeds. This technology minimizes PWM current fluctuation, which is the primary cause of low-speed hum.
"Stepper motors used in automation must respect the needs of their human overlords. The continuous noise of individual stepper motors in a laboratory environment may be rather distracting, and the din from hundreds of stepper motors in an industrial implementation can be deafening," explained TRINAMIC R & D Chief Dr. Stephan Kubisch. "Our customers asked Trinamic to perfect a commutation scheme for lower step frequencies that reduces noise. We made it self-tuning, easy to use and added an automated switch to transition to higher frequencies."
Noise limitations are especially desirable in applications that normally occur in close proximity to human operators, in applications where multiple stepper motors are in use, in video surveillance applications where installations near walls and ceilings amplify noise, and in consumer applications, like home automation and air conditioning, where users expect minimal noise.
TRINAMIC devices that implement this new stealthChop technology have achieved measured noise levels 10 dB below traditional stepper motor drive ICs.
About TRINAMIC
Based in Hamburg, Germany, privately-held TRINAMIC Motion Control GmbH & Co. KG is a recognized global leader in motor and motion control technologies. Leveraging its extensive portfolio of internally developed IP, TRINAMIC motion control products emphasize efficiency, quality and ease-of-use.
The company sells ICs, modules and integrated mechatronics to market leading manufacturers worldwide. The company's products have been integrated into a wide range of applications in biotechnology, lab automation, materials handling, CCTV and factory automation. More information about TRINAMIC can be obtained on the company website: http://www.trinamic.com.
Featured Product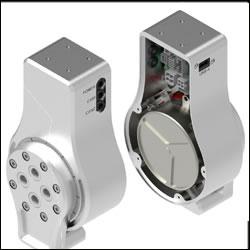 maxon launches the next generation of positioning controllers - the EPOS4. A high performance module with detachable pin headers and two different power ratings. With a connector board, the modules can be combined into a ready-to-install compact solution. Suitable for efficient and dynamic control of brushed and brushless DC motors with Hall sensors and encoders up to 750 W continuous power and 1500 W peak power. The modular concept also provides for a wide variety of expansion options with Ethernet-based interfaces, such as EtherCAT or absolute rotary encoders.