Kongsberg Maritime and Hydroid, Inc. invite global AUV community to Annapolis, Maryland
2015 AUVX Users Forum

POCASSET, Mass.--Kongsberg Maritime and its subsidiary Hydroid, Inc., a leading manufacturer of autonomous underwater vehicles (AUVs), welcomes the AUV community to register for their AUVX Users Forum which is now officially open. Members of the global AUV community are invited to attend the AUVX Users Forum September 21 to 25, 2015 in Annapolis, Maryland.
Hydroids forum offers attendees the opportunity to share and discover the latest advancements in the world of AUVs. Through interactive workshops, user presentations, informative panel discussions and product demonstrations, existing users of Kongsberg and Hydroid AUVs will have the opportunity to share their experiences and knowledge in order to optimize their systems. Non-users are also welcomed to learn first-hand about the capabilities and applications of AUV technology.
"We encourage all AUV enthusiasts to attend the 2015 AUVX Users Forum," said Duane Fotheringham, president of Hydroid. "Its a learning experience thats not to be missed and a great opportunity for the AUV community to learn about the exciting advancements being made by Kongsberg and Hydroid."
The forum is open to all users of Kongsberg and Hydroid AUVs, with limited availability for non-users interested in learning more about the vehicles. The fee includes the welcome reception, presentations, panel discussions, workshops, demonstrations and the conference gala dinner, with entertainment. Additionally, attendees can participate in a golf outing at the famous Renditions golf course, and an Annapolis Harbor sunset sail. Attendees traveling with guests will be offered a guest day excursion to Washington, DC. The Forum will be held at the Annapolis Marriot Waterfront.
For more information on the 2015 AUVX Users Forum, please contact Rick Morton at +1 (508) 563 6565 or Katharina Nygaard at +47 330 34420.
About Kongsberg Maritime
Kongsberg Maritime is a global marine technology company providing innovative and reliable technology solutions for all marine industry sectors including merchant, offshore, subsea and naval. Headquartered in Kongsberg, Norway, the company has manufacturing, sales and service facilities in 17 countries. Kongsberg Maritime develops automation, control, navigation, dynamic positioning, hydroacoustics, AUV/underwater navigation/communication/camera systems, and marine and offshore simulators. All Kongsberg Maritime deliveries are tailored to exact customer requirements and benefit from high quality design and manufacturing. Kongsberg Maritime delivers solutions that cover all aspects of technology underwater and on the water, aboard new build and retrofit vessels, and on offshore platforms and rigs, often under a single supplier strategy called The Full Picture.
About Hydroid, Inc.
Located in the U.S. and a subsidiary of Kongsberg Maritime, Hydroid is the world's most trusted manufacturer of autonomous underwater vehicles. Its flagship line of REMUS AUVs, together with Kongsberg Maritime's HUGIN, MUNIN and Seaglider underwater vehicles, provide marine professionals worldwide with intelligent marine robots they can rely on. These innovative full-picture AUV systems are utilized internationally in marine research, defense, hydrography and energy exploration. This family of AUVs represents the most advanced, diversified and field-proven line of AUVs and support systems in the world.
For more information on Hydroid and Kongsberg marine robotics technology, please visit www.km.kongsberg.com or www.hydroid.com.
Featured Product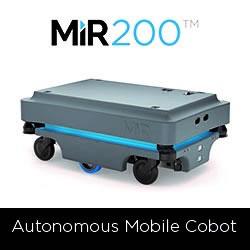 MiR200 is a safe, cost-effective mobile robot that automates your internal transportation. The robot optimizes workflows, freeing staff resources so you can increase productivity and reduce costs. MiR200 safely maneuvers around people and obstacles, through doorways and in and out of lifts. You can download CAD files of the building directly to the robot, or program it with the simple, web-based interface that requires no prior programming experience. With its fast implementation, the robots offers a fast ROI, with payback in as little as a year.