Recently Fort Hays State University purchased two Nao robots that will be introduced into the curriculum in various ways.
Pronounced "now," Nao is an autonomous, programmable humanoid robot that was developed by Aldebaran Robotics, a French company headquartered in Paris.

The two Nao robots are owned jointly by the Science and Mathematics Institute, Forsyth Library and the Division of Student Affairs.
Paul Adams, interim dean of the College of Education and Technology, received funding from the FHSU Foundation to acquire the two robots, with warranty, for a total of $30,500.
The robots are housed in the MakerSpace room in Forsyth Library, where they are available for research, teaching and public demonstrations.
"MakerSpace is a place to learn about new tools and techniques, just like libraries have always been," Adams said.
On Sept. 12 and 13, FHSU faculty, staff, KAMS students and teachers from Hays USD 489 gathered in Custer Hall for Nao training.
Robert Stokes, president of Stokes Educational Services, and Bill Gill, CEO of William R. Gill & Associates, conducted the training sessions.
Stokes demonstrated how a Nao could be programmed to perform Michael Jacksons "Thriller," complete with music and accompanying dance moves. He said the Nao can also be programmed for activities like recitation. For example, The robots are capable of delivering Martin Luther Kings "I Have a Dream" speech in Kings voice.
"This will provide our students with an excellent opportunity to get involved with cutting-edge technology and apply it to research," said Roger Schieferecke, director of KAMS. "We believe we are the only college in the state that has them as part of the regular curriculum, so it gives our students a unique opportunity."
Stokes said the robots, with their 25 motors, 25 degrees of motion, and on-board camera and audio capabilities, could even be taught to play soccer. Four-member teams of Naos participate annually in the international RoboCup. They are not operated from the sidelines like a remote-control car, Stokes emphasized. Rather, they are programmed ahead of time to perform independently. They can see the ball to shoot and defend, distinguish teammates from opponents, and decide on their own whether to pass the ball or shoot on goal.
"It makes us better as a university because were pushing the envelope in being innovative," Adams said. "Our students will learn how this can have value in the real world."
Stokes said research has shown that robots can produce significant results as an assisting device in both education and medicine.
According to Stokes, one study conducted consisted of introducing a Nao into a group of autistic children who previously were unable to interact with their teachers. Within an hour, the children were interacting with the Nao, and their ability to interact transferred almost immediately toward their teachers.
The robots provided instruction to the autistic children by encouraging them to mimic a concepts and emotions. For example, Stokes said, a robot might instruct a child by saying, "When Im angry, I pump my fist twice," then the children learn to express anger by mimicking the action.
In medicine, he added, research has been done by sending a Nao home with a patient to monitor medicine and attending to elderly patients with dementia, who are less threatened by a robot than a person.
Carol Murray, cooperative for Hays Special Education, said studies have shown that autistic children can interact with a computer longer than with a person, and they interact twice as long with a robot as with a computer.
"Major universities are looking at the efficacy of teaching children with autism and other developmental delays using Nao," Murray said.
She said she intends to do research with children at Lincoln Elementary School with help from teachers there who will determine what skills need to be taught.
"The lesson plan will be programmed into a Nao at Fort Hays State, and then well study which way they learn best, which way is most advantageous for the kids," Murray said.
Diane Plunkett, assistant professor of teacher education, will participate in the local research. She will introduce the robots into classrooms to work with children and inform special education teachers about the robots.
Plunkett, whose doctoral dissertation was on the quality of interaction when assistive technology is involved, saw a demonstration of Nao last spring.
"Young children look at animation as very real, but not threatening," Plunkett said. "A robot can say something and its perceived as neutral."
The next step, she said, would be to make robotic technology more available in the schools.
Adams said he would start small by incorporating the Naos into the FHSU curriculum.
"Well use it in research and marketing, but most of all in helping our students put their knowledge to use," Adams said.
Featured Product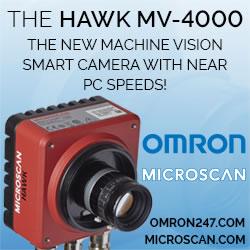 Awe-inspiring power and superior flexibility is sheathed within the contoured casing of the HAWK MV-4000. This smart camera builds upon the previous generation by quadrupling processing power and achieving real-time trigger response using an FPGA. Its state-of-the-art algorithms make it an excellent tool for any industry, whether the requirement be code reading, code verification, inspection, guidance, gauging or a combination of all four.