Oceanscience designs and manufactures marine sensor platforms and unmanned surface vehicles.
THOUSAND OAKS, Calif. - October 23, 2014 - Teledyne Technologies Incorporated (NYSE:TDY) announced today that a subsidiary has acquired the business and substantially all of the assets of The Oceanscience Group Ltd. ("Oceanscience"). Based in Carlsbad, California, Oceanscience designs and manufactures marine sensor platforms and unmanned surface vehicles. Terms of the transaction were not disclosed.

Oceanscience is a leader in the development of oceanographic and hydrographic deployment equipment designed to save survey time and improve data quality. Major products include remotely-controlled and tethered instrumentation deployment vehicles used for current measurement, seafloor mapping and analysis of physical parameters such as salinity.
"Through the acquisition of Oceanscience, as well as the recent investment in Ocean Aero and the pending acquisition of Bolt Technology and its Seabotix division, we will have significantly broadened Teledyne's portfolio of remotely-operated and autonomous marine systems," said Robert Mehrabian, Chairman, President and Chief Executive Officer of Teledyne. "Specifically, Oceanscience adds unmanned surface vessels to our line of profiling floats, battery-powered autonomous underwater vehicles and market-leading autonomous gliding vehicles."
Ron George, President of Oceanscience, said, "After working closely with Teledyne for 16 years, the entire Oceanscience team is excited about the opportunity to continue developing innovative, industry-leading products and to accelerate the company's growth as part of Teledyne."
Claiborne Advisors, Inc., who represents founder-owners and companies in transactions in Southern California and New Mexico, acted as financial advisor to Oceanscience.
Teledyne Technologies is a leading provider of sophisticated instrumentation, digital imaging products and software, aerospace and defense electronics, and engineered systems. Teledyne Technologies' operations are primarily located in the United States, Canada, the United Kingdom, and Western and Northern Europe. For more information, visit Teledyne Technologies' website at www.teledyne.com.
Featured Product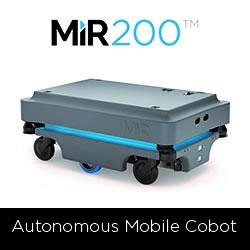 MiR200 is a safe, cost-effective mobile robot that automates your internal transportation. The robot optimizes workflows, freeing staff resources so you can increase productivity and reduce costs. MiR200 safely maneuvers around people and obstacles, through doorways and in and out of lifts. You can download CAD files of the building directly to the robot, or program it with the simple, web-based interface that requires no prior programming experience. With its fast implementation, the robots offers a fast ROI, with payback in as little as a year.