Datalogic will showcase bar code readers, machine vision cameras, laser markers, sensors, safety devices, as well as integrated solutions for improving efficiency and accuracy.
Telford, PA October 30, 2014

Datalogic S.p.A., a global leader in Automatic Data Capture and Industrial Automation markets, has selected the SPS IPC Drives show, November 25th-27th in Nuremberg, to unveil new technology for the electric automation market. Datalogic, a global leader in Industrial Automation, will showcase bar code readers, machine vision cameras, laser markers, sensors, safety devices, as well as integrated solutions for improving efficiency and accuracy.
Datalogic, the only manufacturer with a complete portfolio of laser and image based bar code readers, will feature both technologies in Hall 7 booth 710. Attendees will get a first chance to see the new DS2100N and DS2400N laser scanners with onboard fieldbus communication options. These compact laser scanners support onboard Ethernet connectivity including a PROFINET version with an embedded switch and rotating connector block for compact and flexible mounting options. With the new connectivity features, Datalogic expands their compact laser segment offering for the Intralogistics / Automated Warehousing and Manufacturing industries.
In addition to laser scanners, Datalogic will be showcasing the complete Matrix family of 2D imagers: the Matrix 410™, a modular, flexible and versatile compact bar code 2D reader for industrial applications; the Matrix 210™, a 2D reader offering extreme reading performance and integrated Ethernet in a ultra-compact housing; and the Matrix 300™, a new compact bar code reader designed for performance on high speed and Direct Part Marking (DPM) applications.
For the first time ever, visitors will see the versatile, ultra-compact P-Series smart camera, setting a new standard in the machine vision industry. The P-Series merges advanced Smart Camera functionality in a fully-embedded Vision Sensor form-factor. Embedded lenses and illuminators are fully interchangeable and can be mounted and replaced in the field. Five focal lengths and seven lighting options result in 70 different combinations, delivering outstanding installation flexibility while offering superior image acquisition capabilities.
Datalogic will also premier the S100 Miniature Photoelectric Sensor for detection applications. With standard miniature dimensions of 20x32x12 mm and a unique layout with four mounting holes, the S100 line is a universal detection solution. Competitive pricing, combined with standard optical functions, make this new sensor the ideal solution for applications in automated manufacturing machines and logistic lines.
The new SG4-H Safety Light Curtains with a patented stainless steel housing offer the highest mechanical protection and hygienic design for pharmaceutical processing and packaging machinery applications. The SG4-H has a 30x50mm compact profile, with controlled heights of 300 or 450 mm, 14 mm resolution, up to a 6 m operating distance, meeting IP67 and IP69K protection without the need of additional accessories.
Attendees will have the opportunity to experience Datalogics ground-breaking Integrated Mark and Read Automation System. The fully automated system seamlessly combines four Datalogic product lines: the new T47 smart camera, the innovative fiber laser marking system Arex, and the new Matrix 300 Direct Part Mark reader.
Additionally, Datalogic will showcase a wide range of live simulations:
Integrated solutions for bottling applications: a live demo revealing the powerful end-to-end integration of Datalogic products in a life-like bottling production line including:
-- The DS3 area sensor for transparent material detection and liquid presence check
-- S8 sensor for transparent object detection
-- DataVS2 Vision Sensor for label presence/absence detection
-- LD46Luminescence UV sensor for label detection
-- OCR reading with the T40 Smart Camera
-- Label bar code checking and detecting with the Matrix 300
-- Cap positioning and liquid level with the A30 Smart Camera
Label inspection: a live demo powered by the ultra-compact P-Series Smart Camera, uses optical character recognition (OCR) to inspect labels for variables such as product weight, cost, ingredients and current promotions.
Robot guidance: fully integrated Mitsubishi robot guidance system based on the T47 Smart Camera, Matrix 300 and Datalogic sensors.
Datalogic Group is a global leader in Automatic Data Capture and Industrial Automation markets. As a world-class producer of bar code readers, mobile computers, sensors, vision systems and laser marking systems, Datalogic offers innovative solutions for a full range of applications in the retail, transportation & logistics, manufacturing and healthcare industries. With products used in over a third of worlds supermarkets and points of sale, airports, shipping and postal services, Datalogic is in a unique position to deliver solutions that can make life easier and more efficient for people. Datalogic S.p.A., listed on the STAR segment of the Italian Stock Exchange since 2001 as DAL.MI, is headquartered in Lippo di Calderara di Reno (Bologna). Datalogic Group, as of today employs, about 2,400 members of staff worldwide, distributed in 30 countries. In 2013, Datalogic Group achieved revenues for 450,7 million Euro and invested over 35 million Euro in Research and Development with a portfolio of over 1,000 patents across the world. For more news and information on Datalogic, please visit http://www.datalogic.com.
Featured Product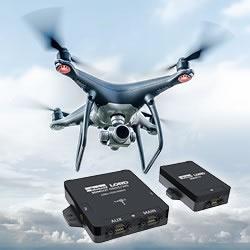 The C-series high performing inertial sensor package provides an OEM form-factor that is optimized for size and weight in Off Highway, Unmanned Ground Vehicles/Mobile Robots and Unmanned Aerial Systems. It's compact and low-profile anodized aluminum housing can be connected directly to a printed circuit board using a UART header or a Samtec FFSD ribbon cable and 2-56 fasteners.