Conveyor belts operating, on display and available for sampling at Booth E-10635 at the Lakeside Lower Hall
Cambridge, Maryland October 31, 2014

Cambridge Engineered Solutions, the worlds largest manufacturer of metal conveyor belts for food processing, will showcase five of its newest products at Pack Expo. The Cambridge belts offer food and beverage manufacturers innovative solutions for improving speed, efficiency and hygiene in their canning, bottling and packaging processes.
Cambridge has engineered the most comprehensive line of metal belting for food packagers in the industry. Belts operating, on display and available for sample at the Cambridge Pack Expo booth (Lakeside Lower Hall, E-10635) are:
DuraFlex Edge: Best suited for the tight transfer and packaging of small products into sleeves such as cookies, crackers and snacks. Keeps products perfectly aligned, promotes stability and prevents side-to-side movement on the line.
PacTitan: Cambridge's strongest and longest lasting belt is the top choice for processors who are canning food products. It's capable of transporting varying size cans with heavy loads on the line and can be customized with openings that support cans of varying diameters. Customization of belt weave also promotes better drainage for can-washing processes.
DiaCrimp: Features a tighter belt weave that can be flattened to ensure product stability. Accommodates small bottles and vials to prevent tipping and breakage and leaves no markings on the bottom of the glass.
Leading Edge DuraLite: The strongest and most open belt for carrying boxed or pouched product, such as ice cream, through spiral cage systems and turn conveyor units.
Precision: Cambridges premier belt for packing products, such as bottled water, under shrink-wrap tunnels
"What sets Cambridge apart from other belt manufacturers is our engineering capabilities and wiliness to work with customers to develop customized belt solutions that solve their packaging and production issues and provide an efficiency edge," says Mike Price, domestic sales manager.
Price says Cambridge will offer free sprockets for select belts for any orders placed with the company at Pack Expo.
Headquartered on Marylands Eastern Shore, Cambridge designs and fabricates metal conveyor belts for companies around the world in food processing and agriculture (baking, beverage, meat, poultry and snack foods).
About Cambridge Engineered Solutions
A division of Cambridge International, Cambridge is the world's largest metal conveyor belt manufacturer and a global leader in filtration screens. For more than a century, Cambridge has developed dynamic solutions, revolutionizing industry automation and plant operations. With more than 15 exclusive product lines and over 50 patents, our team of dedicated engineers and experts continually devise new methods to make lines run smoother, faster and handle more product weight. For information visit http://www.cambridge-es.com.
Featured Product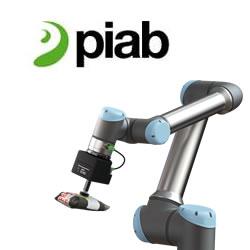 Piab's Kenos KCS gripper enables a collaborative robot to handle just about anything at any time. Combining Piab's proprietary air-driven COAX vacuum technology with an easily replaceable technical foam that molds itself around any surface or shape, the gripper can be used to safely grip, lift and handle any object. Standard interface (ISO) adapters enable the whole unit to be attached to any cobot type on the market with a body made in a lightweight 3D printed material. Approved by Universal Robots as a UR+ end effector.