Datalogic will feature next generation solutions in automated bar code reading and inspection, including their new P-Series smart camera, Matrix 210 Liquid Lens 2D imager, Falcon X3+ mobile computer and the PowerScan PM9500-DK handheld imager at PACK EXPO International
Telford, PA October 31, 2014

Datalogic, a global leader in Automatic Data Capture and Industrial Automation markets and world-class producer of bar code readers, mobile computers, sensors, vision systems and laser marking equipment, will feature next generation solutions in automated bar code reading and inspection, including their new P-Series smart camera, Matrix 210 Liquid Lens 2D imager, Falcon X3+ mobile computer and the PowerScan PM9500-DK handheld imager at PACK EXPO International booth N-6104 located in Chicagos McCormick Center from November 2nd - 5th.
Datalogic will display a full range of mobile computers from the popular pocket-sized Memor X3 mobile computer featuring aggressive 1D and 2D scan capabilities, to the newly released ruggedized Falcon X3+ mobile computer. The Falcon X3+ mobile computer introduces many new and exciting capabilities including the ability to read 2D barcodes at extreme distances with the new XLR 2D scanner, along with significantly higher wireless communications throughput with an 802.11n dual band WiFi radio.
Datalogic s renowned line of industrial grade PowerScan handheld scanners, with both 1D and 2D reading abilities, offer rugged handheld scanning solutions for industrial settings. The focal point of this family is the newly released high-speed wireless PowerScan PM9500-DK 2D omnidirectional scanner. Its high performance liquid lens increases depth-of-field for reading wide and high density codes. This imager is available with a display and a 16-key keypad for manual entry of data of simple code-quantity applications such as picking and inventory counts. The PM9500-DK imager offers great mobility with the Datalogic STAR2.0 Cordless System technology, a narrow band radio offering a longer range and a more robust alternative to Bluetooth wireless technology when needed.
For the first time ever, visitors will see the versatile, ultra-compact P-Series smart camera perform optical character recognition on pharmaceutical packaging for expiration date/lot code inspection. The interactive demo provides a first-hand look at how a modern day modular approach to machine vision can offer 70 field-adaptable cameras for various industry applications.
Booth N-6104 will also showcase the patent pending technology behind Datalogics Pattern Sorting Tool a revolutionary solution which inspects packaging graphics during high speed production processes. Ultrafast processing times, plus the tools ability to identify thousands of unique graphics, result in a solution that is virtually limitless for food & beverage and pharmaceutical applications.
Additionally, Datalogics Matrix 210™ Liquid Lens 2D imager will be showcased reading bar codes on pharmaceutical and food & beverage packaging. The award-winning, liquid lens technology offers more flexibility, with intuitive, AutoSetup wizards, as well as increased performance with multiple illumination settings on damaged, high resolution, direct part mark codes.
"Consistent with the consumer market, automation technology is trending towards combining more compact and powerful intelligent devices with modern day connectivity and interfaces. This combination offers customers the opportunity to automate new steps in their production process and increase innovation capability for the development of new products. PACK EXPO is the ideal venue for Datalogic to demonstrate this leading-edge technology and showcase its full capabilities to attendees," said Jonathan Stiles, Marketing Manager at Datalogic.
Datalogic Group is a global leader in Automatic Data Capture and Industrial Automation markets. As a world-class producer of bar code readers, mobile computers, sensors, vision systems and laser marking systems, Datalogic offers innovative solutions for a full range of applications in the retail, transportation & logistics, manufacturing and healthcare industries. With products used in over a third of worlds supermarkets and points of sale, airports, shipping and postal services, Datalogic is in a unique position to deliver solutions that can make life easier and more efficient for people. Datalogic S.p.A., listed on the STAR segment of the Italian Stock Exchange since 2001 as DAL.MI, is headquartered in Lippo di Calderara di Reno (Bologna). Datalogic Group as of today employs about 2,400 members of staff worldwide distributed in 30 countries. In 2013 Datalogic Group achieved revenues for 450,7 million Euro and invested over 35 million Euro in Research and Development with a portfolio of over 1,000 patents across the world. For more news and information on Datalogic, please visit http://www.datalogic.com.
Featured Product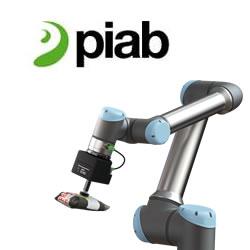 Piab's Kenos KCS gripper enables a collaborative robot to handle just about anything at any time. Combining Piab's proprietary air-driven COAX vacuum technology with an easily replaceable technical foam that molds itself around any surface or shape, the gripper can be used to safely grip, lift and handle any object. Standard interface (ISO) adapters enable the whole unit to be attached to any cobot type on the market with a body made in a lightweight 3D printed material. Approved by Universal Robots as a UR+ end effector.