Next-generation robotic technology increases product-handling flexibility and load stability to satisfy mixed-load requirements
(CHICAGO: Nov. 3, 2014)—Intelligrated (www.intelligrated.com), a leading North American-based automated material handling solutions provider, launches its next generation of robotic mixed-load order fulfillment solutions. Key enhancements include adjustable end-of-arm tooling capable of handling up to four cases simultaneously and an integrated stack-and-wrap system. Ideal for retail replenishment applications, Alvey robotic mixed-load order fulfillment solutions utilize the latest advancements in robotic integration, software, controls and vision technology to palletize and depalletize partial and mixed-load pallets, enabling operations to replace manual processes with the efficiency and accuracy of automation.

Intelligrateds booth, #3536, features a robotic mixed-load palletizing and vision-guided depalletizing demonstration with an autonomous mobile robot to transport pallet loads from palletizing to depalletizing stations. The end-of-arm tooling can handle multiple cases simultaneously for increased palletizing speed and product handling flexibility for applications with unique packaging types. The robotic depalletizing solution utilizes vision technology capable of identifying products and positions to accommodate different SKUs and patterns. The demonstration also includes an integrated stack-and-wrap system to ensure load stability and features integrated controls for robotics and stretch wrapping on the same platform.
The mobile robots role in the booth demonstration offers an introduction to Intelligrateds advanced mobility products. Unlike traditional automated guided vehicles, this mobile robot uses onboard lasers and mapping technology to dynamically navigate through a warehouse or manufacturing facility, adjusting its path to move around obstructions without assistance from facility staff.
"Intelligrateds enhanced robotic order fulfillment solutions bring increased speed and product handling flexibility to help satisfy demand for mixed-load and partial pallets," said Matt Wicks, vice president, product development, manufacturing systems. "The suite of robotics solutions combines with the rest of Intelligrateds lineup of automation and software solutions to provide maximum efficiency from a fully-integrated system."
Intelligrated is also featuring information on its traditional high-speed palletizing offerings, automated storage and retrieval systems, and lifecycle support services such as modifications and upgrades, system assessments and spare parts.
To learn more, visit Intelligrated in booth #3536 in the south hall of McCormick Place at PACK EXPO International 2014.
For sales and marketing information, contact Karen Salles, senior marketing coordinator, Intelligrated, by phone at 513.881.5306 or by email at karen.salles@intelligrated.com.
For media information, contact Natalie Fioto, public relations, Koroberi, by phone at 919.945.0566 or by email at natalie@koroberi.com.
Tweet this: @Intelligrated introduces enhanced #robotic mixed-load order fulfillment solutions at #PACKEXPO International 2014 bit.ly/13p4jej
Featured Product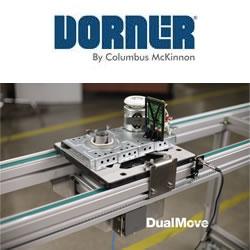 Dorner's 2200 Series Precision Move Pallet Systems are ideal for assembly automation. With features such as an innovative timing belt conveyor design and industry best pallet transfers, they get your product to the exact location, at the exact time and in the exact position it needs to be. They are now available with new options such as heavy load corner modules with 150 lb. capacity and 180 degree tight transfer corners for compact loops.