Discover the new Arctic Series of Palletizing Robots from KUKA Robotics in booth #N-5347 at PACK EXPO Chicago, November 1st – November 5th 2014
PACK EXPO

SHELBY TOWNSHIP, Mich. & CHICAGO--KUKA Robotics will exhibit among 1,800+ world-class industry suppliers at Pack Expo Chicago in booth N-5347. Pack Expo is North Americas largest packaging and processing show.
KUKA Robotics will debut the KUKA KR QUANTEC PA arctic Series of Palletizing Robots to the North American Market at Pack Expo 2014. Join us in booth N-5347 and experience a simulated freezer environment where attendees can see the Arctic Series of Robots up close and personal. No suits, bags or robot protection needed for the KR QUANTEC PA arctic series to endure temperatures as low as -30°C. The KR QUANTEC PA arctic Series is an ideal fit for the Refrigerated, Frozen Food and Beverage markets with availability in 3 payloads of 120kg, 180kg, and 240kg they are perfect for all kinds of frigid lifting!
KUKA will also demonstrate high speed flexible case packing with a KR 6 R900 sixx having a 6kg payload with a 900mm reach, also utilizing all 6 axes. See video of KR AGILUS here.
Get up close and personal with the complete KR AGILUS family of small robots on display. The KR AGILUS is unique in its payload category; setting new standards with 6 axes, very high speeds, short cycle times, integrated energy supply system -all three models will be shown side by side, the KR6 R700, KR6 R900 and the KR10 R1100.
In a robotic solution created and provided by Official KUKA Robotics System Partner BW Container Systems will showcase a Robotic Full Bottle Pick & Place system. A KUKA KR 16 robot equipped with an end of arm vacuum assembly will select filled bottles from the AdaptA MB system and place them into a tray. This technology can be used for case packing, large container bulk palletizing or removal of select containers for inspection. The system can be designed to handle many types and sizes as well as combinations of products within cases allowing for mixed or "rainbow" packages. The AdaptA MB system creates a mixed pallet using mxAutomation. mxAutomation is a software package from KUKA Robotics that allows full control of KUKA robot motion via an external PLC that communicates with the KR C4 robot controller.
The KUKA Robotics System Partner network is designed to mutually benefit each organizations users by extending the way customers can acquire tailored solutions with the major competitive and technological advantage of high precision KUKA robots. The KUKA Robotics System Partner Network includes experienced OEM machine builders, system providers, application specialists and expert robot integrators.
About the KUKA Robot Group
KUKA Robotics Corporation along with KUKA Roboter GmbH, Augsburg Germany (part of the KUKA Aktiengesellschaft group of worldwide companies), ranks among the world's leading suppliers of industrial robots and material handling vehicles. Core competencies include the development, production, and sale of industrial robots, controllers, software, linear units, and omniMove™ omni-directional motion platforms. KUKA robots are utilized in a diverse range of industries including the appliance, automotive, aerospace, consumer goods, logistics, food, pharmaceutical, medical, foundry and plastics industries as well as multiple applications including material handling, machine loading, assembly, packaging, palletizing, welding, bending, joining, and surface finishing. KUKA robots range from 5kg to 1300kg payloads, and 635mm to 3900mm reach, all controlled from a common PC based controller platform. KUKA Roboter GmbH employs about 3400 people worldwide. In 2013, sales totaled 754,1 million Euro. 28 subsidiaries provide a presence in the major markets of Europe, America and Asia.
Featured Product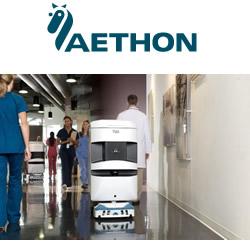 TUG automatically picks up and drops off carts, eliminating the labor that would otherwise be needed to load the robot. It also communicates with your IT system to automate the dispatching of the robot fleet and update the inventory system when materials are moved.