1,000 Professionals Join Together to Invest, Innovate & Implement
FRAMINGHAM, Mass., Oct. 30, 2014 -- Held in Boston, MA, RoboBusiness 2014 experienced record-breaking attendance and press coverage and had more robots on the showcase floor than ever before! Hosting attendees from over 20 countries, this was not only the largest, but most internationally diverse event yet.

On October 15, nLink beat 14 competing startups, winning the Pitchfire event. Their Mobile Drilling Robot is a technology that will relieve construction workers from overhead work involved with measuring and drilling in concrete ceilings.
Additionally that evening, 7 other companies emerged victorious during the Robotics Business Review Game Changer Awards. Winners included Andrew Alliance, Clearpath Robotics, Grabit, Harvard University, iRobot, Kairos Autonomi and Rethink Robotics.
And for the first time, a Showcase Theater provided live demonstrations and product unveilings throughout the afternoon of October 16. The theater area was standing-room-only as Aethon, Black Dog Robotics, CSIRO, Energid, Harvest Automation, Rethink Robotics, Universal Robots and VECNA Technologies took the stage.
These spotlight events were in addition to standout keynote presentations that touched on everything from company development and growth to social robotics, mobility and much more. "Robots will do the dangerous and dirty work for humans," said keynote Robert Ambrose of NASA-JSC.
The event also housed two workshops and a host of informative conference sessions focused on the following tracks: Business Development, Commercial Design Trends, Disruptive Applications and Enabling Technologies.
"…thank you for great RoboBusiness event! Now we are following up with the connections we made and hope these will be fruitful."
- Yaroslav Tenzer, PhD
Co-Founder, RightHand Robotics, LLC
This success only adds to the excitement as preparations begin for RoboBusiness 2015 which will be held September 23-25, 2015 at the San Jose McEnery Convention Center in San Jose, CA!
About RoboBusiness:
RoboBusiness is an international executive-level robotics event that connects cutting-edge solutions providers with investors, end users and new business partners to accelerate the growth of the industry. It is recognized as the leading business development event for the global robotics market and is the only robotics event that operates at the intersection of consumer, service, and industrial robotics applications. As a long-standing event, founded in Massachusetts, RoboBusiness has a history with businesses and institutions at all levels of the robotics ecosystem.
Featured Product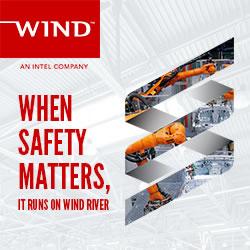 When it comes to ensuring the development of can't-fail systems, Wind River® is a leader with a proven track record of success. With more than 30 years of experience in embedded software and a portfolio of products deployed across more than 2 billion devices, Wind River delivers safety and security when it counts most. From industrial automation to automotive systems, as well as in healthcare devices, railway operations, and throughout the aerospace and defense sector, Wind River has extensive expertise providing built-in safety for complex, connected, safety-critical systems.