Ensuring freshness of food, pharmaceuticals, and all perishables
OXNARD, Calif., Nov. 3, 2014 -- Infratab, the award-winning innovator behind Freshtime--a line of freshness sensors and software for all things perishable—unwrapped their latest additions at Pack Expo, November 2-5, 2014, in Chicago. Infratab Director of Strategy and Business Development, Prashanth Vanchy, also spoke on "The Art of the Possible: Intelligent Packaging Solutions for Freshness" at the Active and Intelligent Packaging Industry Association (AIPIA) Congress coinciding with Pack Expo.

Infratab is the creator of a system of smart sensors and software whose purpose is monitor, track, and communicate a perishable's condition—simply and securely—throughout the supply chain, from farm to warehouse to grocery aisle to dinner table.
Conventional methods of monitoring perishables—such as use-by dates and temperature loggers—fail to report a perishable's actual condition. According to the Institute of Food Technologists, as much as 31 percent of the U.S. food supply is wasted—thrown out because an expiration date has passed, or a critical temperature threshold has been breached—although the perishable is still in perfectly good condition. Conversely, perishables that have been improperly handled are sometimes sold as fresh, only for consumers to discover that they are not—thus tarnishing the brand.
The power is in the points
At the core of Infratab's Freshtime technology are Freshtime Points, a system of quantifying and measuring the freshness of a perishable using metrics that can be authenticated, validated and audited. A perishable starts out with 100 Freshtime Points and ends its useful life at zero. Using Freshtime Points, a perishable's condition can be assessed and budgeted by anyone who handles it—the brand, its transporter, retailer, or consumer. The result is greater consumer confidence and trust, longer use and reduced spoilage.
Freshtime tags, which are RFID EPC Gen2 tags, come in various sizes and can be used repeatedly. A 4" x 4" general-use tag, for manufacturing, storage or transport, is often used as a micro-climate temperature monitor for storage rooms, containers or perishables display cases. The Freshtime clip tag (4" x 8") is used with RPCs (reusable plastic containers) and other cases that have either a handle or a lid. The Freshtime long tag (4" x 20" in length) is used to monitor metal-lined containers or containers of frozen perishables.
These previous tags have required an RFID EPC reader to set up the tag and retrieve the data stored in it. EPC (Electronic Product Code) is an RFID standard set by GS1 (the issuer of UCC barcodes) for products sold worldwide in the supply chain. An on-tag button enables the tag to be started and the status checked without the use of a reader.
Two new Freshtime™ tags
The newest members of the Freshtime family are even more mobile. Freshtime NFC is a tag that can be read by anyone with a smart phone app—farmers, small growers, businesses, or restaurateurs. Like other Freshtime tags, it can be used and reused.
Freshtime Dual is a tag that can be attached and started in the field—again, using only a smartphone—then used by packing houses, consumer brands, and retailers who are part of the GS1 global supply chain. The system not only helps ensure product freshness, it can also help suppliers plan the most appropriate packaging and transport.
The Freshtime system also helps document compliance with regulatory requirements such as those set by the federal Drug Supply Chain Security Act (DSCSA and the FDA's Food Safety Modernization Act.
Infratab has other tags in the works—one for oyster sacks, which is capable of withstanding both the oyster and the ocean; and one for frozen goods, letting handlers know whether a product has thawed and been refrozen. Although the company has focused on food applications since its founding, the technology is applicable to a wide range of industries—pharmaceuticals and vaccines, supplements, cosmetics, industrial adhesives and sealants, biologics, and blood; indeed, any product for which potency matters.
For more information, contact Terry Myers, Infratab CEO at tmyers@Infratab.com.
Featured Product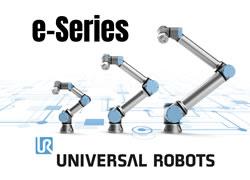 Universal Robots is a result of many years of intensive research in robotics. The product portfolio includes the UR5 and UR10 models that handle payloads of up to 11.3 lbs. and 22.6 lbs. respectively. The six-axis robot arms weigh as little as 40 lbs. with reach capabilities of up to 51 inches. Repeatability of +/- .004" allows quick precision handling of even microscopically small parts. After initial risk assessment, the collaborative Universal Robots can operate alongside human operators without cumbersome and expensive safety guarding. This makes it simple and easy to move the light-weight robot around the production, addressing the needs of agile manufacturing even within small- and medium sized companies regarding automation as costly and complex. If the robots come into contact with an employee, the built-in force control limits the forces at contact, adhering to the current safety requirements on force and torque limitations. Intuitively programmed by non-technical users, the robot arms go from box to operation in less than an hour, and typically pay for themselves within 195 days. Since the first UR robot entered the market in 2009, the company has seen substantial growth with the robotic arms now being sold in more than 50 countries worldwide.