Applied Energy Solutions, a leading provider of industrial batteries and chargers, has recently announced that it will be showcasing its line of Maverick chargers at ProMat 2015. Its Maverick high frequency battery chargers offer an eco-friendly, cost efficient, and powerful charging solution for users of industrial equipment.
Caledonia, NY November 04, 2014

Applied Energy Solutions is excited to announce that it will be featuring its Maverick industrial battery chargers at ProMat 2015 next March, the worlds premier material handling and logistics expo. The Maverick High Frequency Fast Charger is anticipated to be highlighted among the market of industrial charging solutions showcased at the event, impressing with its significant savings in energy cost, reduced CO2 emissions, and greater power capacity.
High frequency batteries and chargers offer real advantages over charging alternatives, saving companies money while implementing eco-friendly practices. The Maverick minimizes the amount of power drawn, saving users of electric utility vehicles energy costs. Available in conventional, opportunity, and rapid charge start rates, all of Applied Energy Solutions Maverick chargers are designed to provide superior re-charging with minimal consumption of energy.
At ProMat 2015, Applied Energy Solutions will be featuring its Maverick High Frequency Fast Charger in particular, a High Frequency-Insulated Gate Bipolar Transistor (HF-IGBT) charger with a full load power factor of .95. It returns more energy at a lower cost than low frequency opportunity chargers and recharges in a shorter amount of time than other high frequency chargers, making it the most efficient charger resulting in the lowest operating cost to users. Additional savings in energy costs can be acquired by utilizing the products many other power-savvy features, such as the units programmable controls, which enables its users to stagger the charger start time outside of high-cost, peak demand periods.
"The Maverick High Frequency charger has been proven to save distribution centers up to $100-$200 per battery in annual energy costs. We consulted with Rochester Institute of Technology during the design and development of our line of Maverick chargers to ensure that each model either met or exceeded that range of energy savings," states Vern Fleming, President of Applied Energy Solutions.
The high frequency model also features higher IGBT switching efficiencies at medium and high power and a simpler drive circuitry. As a result, the Maverick can be used at higher frequencies without the audio noise experienced with other chargers on the market. Furthermore, its TCC 2.0 controller allows for a lower battery recharge temperature due to its unusually low ripple current.
Aside from the High Frequency Fast Charger, the line of Maverick products also includes: the Maverick Opportunity Charger with block out times, a user-friendly interface, and programmable control; the Maverick Multi Pro Opportunity Charger designed for mixed battery fleets with its capacity to automatically seek battery size information in order to adjust the charge profile to accurately re-charge as safely and efficiently as possible; and the Maverick Conventional Rate Charger for the most energy efficient of standard re-charge times.
ProMat 2015 brings together the industrys leading innovators to showcase the latest equipment and systems for manufacturing, distribution, and supply chain management. Set to take place in Chicago from March 23-25, this years expo will include over 800 exhibitors and approximately 30,000 manufacturing and supply chain buyers. Applied Energy Solutions will be showcasing its Maverick chargers at booth #2081 at the event.
For more information on the Maverick and the complete line of AES battery chargers, please visit http://www.appliedenergysol.com, or check out Applied Energy Solutions booth (#2081) at ProMat 2015 in Chicago next March.
About Applied Energy Solutions:
Applied Energy Solutions manufactures industrial battery chargers for forklifts, pallet jacks and other battery powered transportation equipment. AES makes all products in the USA from design, manufacturing and sub- assemblies to interconnect and final assembly. With a full product offering for every application, AES specializes in fitting the proper battery charger for the application need. Applied Energy Solutions manufactures products for high frequency charging, cold storage, rapid charging, opportunity and multiple-shift charging.
Featured Product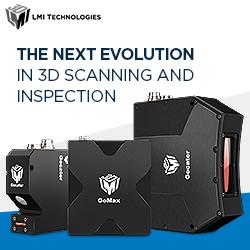 Every robot needs eyes to see, think, and do. Gocator® 3D smart sensors add powerful vision-guidance and inspection capability to industrial robots. You can use these sensors in a wide variety of factory automation applications. Pair them with scara, delta, and collaborative robots to create complete robotic solutions that deliver high-performance 3D results in vision-guidance, quality control inspection, and automated assembly with smart pick-and-place. Make your robot FactorySmart® with Gocator 3D smart sensors.