The unique capabilities of ESS' high-performance syntactics allow manned and unmanned vehicles like the Bluefin 21 AUV to operate for long periods of time at the deepest ocean depths.
ATTLEBORO, Mass., Nov. 5, 2014 -- Engineered Syntactic Systems (ESS), a global supplier of syntactic solutions, is trusted to equip Bluefin Robotics' state-of-the-art subsea vehicles. ESS provides Bluefin Robotics, a world leader in Autonomous Underwater Vehicles (AUVs) with syntactic buoyancy systems for their family of AUVs, including the 4 500 meter Artemis 21 used in the ongoing search for missing Malaysian Airline's Flight 370.

The Bluefin 21 was designed for extended remote operations in the hostile conditions of the deep sea. At just 21 inches in diameter, space for uplift (buoyancy) is limited, but critical. ESS worked closely with Bluefin to engineer a buoyancy solution that would meet their design specifications, providing a syntactic material with the lowest density available for that depth, thereby the most lift.
"The folks at Bluefin came to us looking for a buoyancy package that could go to 4 500 meters and still fulfill their stringent density requirements. We worked closely with them to develop a product that would meet their needs," says Thomas Murray, managing partner at Engineered Syntactic Systems.
The unique capabilities of ESS' high-performance syntactics allow manned and unmanned vehicles like the Bluefin 21 AUV to operate for long periods of time at the deepest ocean depths. ESS syntactic materials deliver high hydrostatic strength and the best buoyancy-to-depth ratio available today.
"ESS has extensive knowledge in the area of syntactic materials," said Harry Stants, Director of Manufacturing and Supply Chain at Bluefin Robotics. "We trusted them to develop a buoyancy system that would keep the overall vehicle weight low - but was durable enough to take the pressure of the operational depth."
With the world watching, it was in part the confidence in ESS' buoyancy system that helped Bluefin and the vehicle operations team assess the overall operational risks and successfully take the AUV deeper than its design depth during the search.
For more information about ESS contact tech@esyntactic.com or visit: http://www.esyntactic.com
About Engineered Syntactic System
Engineered Syntactic Systems is a global leader of high-performance syntactic solutions for subsea and oceanographic environments. Years of experience in the engineering, design and manufacturing of flotation technologies, enable ESS to provide customers with the optimal solution for their application. Products are available in standard shapes and sizes, as well as custom-formed geometries and are engineered to withstand depths ranging from several hundred meters to the bottom of the Mariana Trench. ESS also fabricates syntactic and composite/syntactic structures and assemblies for complete turnkey solutions.
About Bluefin Robotics
Bluefin Robotics, a Battelle company, designs, manufactures and operates Autonomous Underwater Vehicle (AUV) systems and related technology including battery power systems. Founded in 1997, the company has grown to become a world leader in AUV products designed for defense, commercial and scientific applications. Bluefin Robotics is a wholly-owned subsidiary of Battelle. For more information, please submit an inquiry here or visit www.bluefinrobotics.com.
Featured Product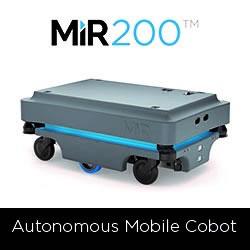 MiR200 is a safe, cost-effective mobile robot that automates your internal transportation. The robot optimizes workflows, freeing staff resources so you can increase productivity and reduce costs. MiR200 safely maneuvers around people and obstacles, through doorways and in and out of lifts. You can download CAD files of the building directly to the robot, or program it with the simple, web-based interface that requires no prior programming experience. With its fast implementation, the robots offers a fast ROI, with payback in as little as a year.