STMicroelectronics, a global semiconductor leader serving customers across the spectrum of electronics applications, and Comau, a proven world-wide leader in sustainable industrial automation and service solutions with a forward focus, are working together to develop new generations of robots enabled by a variety of ST's control, smart-power, and sensing products.
Cooperating since 2006, the companies' latest efforts focus on research for actuation and sensing to improve both the robot's awareness of its external environment and its interaction with operators. Comau and ST have dedicated teams working together to develop new generations of robots that maximize energy efficiency and improve safety in the factory. The ultimate goal is to develop a new approach for robotic applications using ST's industry-leading MEMS technology to give robots sensing capabilities.

"Smart Actuation and Sensor Fusion are the challenges of the next generation of industrial automation," said Nunzio Abbate, System Lab/SPG General Manager of STMicroelectronics. "Our work with Comau has helped us accelerate the introduction of breakthrough technologies in robotics."
"Collaboration between Comau and ST is simply an elective affinity," said Alessio Cocchi, Business Unit Robotics Marketing Manager of Comau. "Our companies and their recognized excellence and commitment to making the world better are naturally-and effectively--working together to successfully deliver cutting-edge technology."
An early result of the ST and Comau collaboration, back in 2006, was an innovative robot prototype in which the electronics were moved onto the robot from the standard rack. This robot used an ST Integrated Motor-Drive Module: a mechatronic device ideally suited for industrial electric motors that offered power, intelligence, and real-time connectivity in a single module to increase performance and simplify system cabling.
To celebrate the long-lasting and continuing collaboration, Racer[1], Comau's newest robot, and the world's fastest robot in its class, will be on display at Electronica, from November 11th to 14th in Munich, in ST's Booth (Hall A5 Booth 207).
About STMicroelectronics ST is a global leader in the semiconductor market serving customers across the spectrum of sense and power and automotive products and embedded processing solutions. From energy management and savings to trust and data security, from healthcare and wellness to smart consumer devices, in the home, car and office, at work and at play, ST is found everywhere microelectronics make a positive and innovative contribution to people's life. By getting more from technology to get more from life, ST stands for life.augmented.
In 2013, the Company's net revenues were $8.08 billion. Further information on ST can be found at www.st.com.
About Comau
Comau SpA is the worldwide leader in manufacturing flexible, automatic systems and in the integration of products, processes and services that increase efficiency while lowering overall costs. The company is based in Turin, Italy, has an international network that spans 15 countries and more than 14,000 employees and uses the latest technology and processes to deliver advanced turnkey systems that consistently meet the expectations of its customers.
Comau is specialized in systems and welding lines for shells (Body Welding), metal machining for engines (Powertrain), the production of a wide range of industrial robots, and in maintenance as well as eco-sustainability services for a wide range of industries. Further information can be found at www.comau.com
Featured Product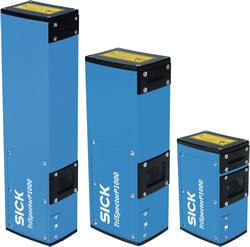 LiDAR (Light Detection and Ranging) is one of the most reliable methods for parts sensing in factory automation today. SICK has made this technology affordable and easy to use! Click on the video link below to learn about the TiM1xx LiDAR sensor and how it provides: - Area scanning LiDAR technology in a standard sensor package - 200-degree field of view and 3 meter sensing range allows for 169 square feet of area scanning - Compact size and light weight enables ease of deployment in "non-standard" type applications, like end-of-arm robotic tooling - Wide area scanning without having to mount a transmitter and receiver makes installation much easier - IO Link for easy configuration