Design file for robotic arm will be published online for public access
Minneapolis & Rehovot, Israel - Nov. 12, 2014 - Stratasys Ltd. (Nasdaq:SSYS), a global leader of 3D printing and additive manufacturing solutions, announced that University of Central Florida (UCF) engineering students have developed a robotic arm for 6-year-old Alex Pring, using a Stratasys 3D Printer.

Born without his right arm, Pring always dreamed of climbing trees or shaking hands. His dreams came true thanks to UCF engineering students who designed and 3D printed a functional prosthetic arm. Aerospace engineering Ph.D. student and Fulbright Scholar Albert Manero is a volunteer at E-Nable, a network of 3D printing enthusiasts whose goal is to develop 3D prosthetic hands for those in need. Manero met Alex and his family through the E-Nable online network.
Manero, along with his team, dedicated seven weeks for their design. The Dimension Elite 3D Printer™ delivered rapid design iteration during the process and the Ivory ABS material used was strong, yet light enough for Alex to easily move.
"He learned to use the prosthetic fast," Manero said. "When he could control it, the first thing he did was hug his mother. He said it was their first real hug. There wasnt a dry eye in the room. I think 3D printing is revolutionizing our world in many ways. I believe changing the world of prosthetics is very real," adds Manero. "Stratasys tools with UCF ingenuity will change the world."
The UCF team will continue to look for new ways to improve their design. As Pring gets older, the team will be able to 3D print a larger arm for a fraction of the cost of traditional prosthetics. "I can shake two peoples hands at once," Pring joked. The team plans to publish the design files online for public access with instructions to 3D print it so more lives can be transformed.
"3D printing is changing the way prosthetics are designed and produced in ways previously not possible," notes Gilad Gans, president, Stratasys North America. "Its a remarkable feeling when you see how 3D printing gives a kid the chance to live a happy life like other kids."
For more information on the Stratasys Dimension Elite system visit: www.stratasys.com
Stratasys Ltd. (Nasdaq:SSYS), headquartered in Minneapolis, Minnesota and Rehovot, Israel, is a leading global provider of 3D printing and additive manufacturing solutions. The company's patented FDM®, PolyJet™, and WDM™ 3D Printing technologies produce prototypes and manufactured goods directly from 3D CAD files or other 3D content. Systems include 3D printers for idea development, prototyping and direct digital manufacturing. Stratasys subsidiaries include MakerBot and Solidscape, and the company operates a digital-manufacturing service, comprising RedEye, Harvest Technologies and Solid Concepts. Stratasys has more than 2,500 employees, holds over 600 granted or pending additive manufacturing patents globally, and has received more than 25 awards for its technology and leadership. Online at: www.stratasys.com or http://blog.stratasys.com.
Featured Product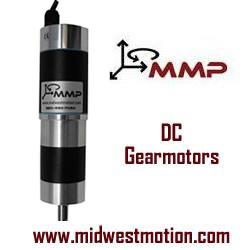 Midwest Motion Products, Inc. (MMP), is a well-established, healthy, & growing Family Owned Business, founded in 2001. MMP specializes in cost-effective standard DC Gearmotors, Motors, Controls, and ancillary equipment. Known world-wide for our "Lightning Fast" delivery capabilities, you can have a Standard Planetary or Right Angled DC Gearmotor BUILT and SHIPPED, often on the very same day you call. Offering Brushed and Brushless designs, with winding voltages ranging from 12 VDC to 120 VDC, we can deliver your "Robust & Reliable" samples within HOURS, instead of weeks, or even months.