"iHuman: The Future of Minds and Machines," to be held on December 4th, 2014, in Silicon Valley, California
SAN JOSE, Calif.--SVForum, Silicon Valleys premiere nonprofit dedicated to startup connections and education, announced today its upcoming half-day conference "iHuman: The Future of Minds and Machines," to be held on December 4th, 2014, in Silicon Valley, California. Steve Jurvetson, managing director and partner at DFJ, will deliver the opening keynote speech; other speakers will include Jeff Hawkins, creator of The Palm Pilot and Treo, and founder and CEO of Numenta.

"SVForum is excited to be hosting a conference centered on an exciting new dimension in emerging technology," said Adiba Barney, SVForum CEO. "Artificial intelligence is already a fast-evolving technology, and concepts that were once science fiction have become commonplace. There is a lot of potential for AI--and a lot of questions, as well. We are very much looking forward to exploring the different facets with an amazing group of experts."
SVForums iHuman conference will explore everything from the future uses of robots and machine intelligence to investment opportunities for VCs and entrepreneurs. Keynote speaker Steve Jurvetson will provide a detailed vision of the future for iHuman attendees, delineating the way our world will look with intelligent machines as an integral part.
"Im looking forward to speaking at the iHuman conference," stated keynote speaker Steve Jurvetson, partner at DFJ. "Huge advances have been made recently in AI, deep learning, and robotics, and its exciting to see connections beginning to form between the computer and human worlds. These powerful technologies have great potential to give us the freedom we need to pursue a better, smarter, and more connected world."
"iHuman: The Future of Minds and Machines" will begin at 2:00 pm, and close at 6:30 pm with a cocktail and networking hour. Tickets are available on the event page. Tech startups will also have the opportunity to purchase demo and exhibitor tables; demoing companies will be invited to deliver speed pitches at the end of the conference. Those who are interested in sponsoring the conference or joining a panel should email SVForums Director of Programs and Events Sepideh Nasiri (sepideh@svforum.org).
About SVForum
For thirty years, SVForum has been the leading not-for-profit organization in the Bay Area, providing an unbiased source of information and insight to the technology community. SVForum programs create networks and relationships, providing education and access to resources both in person and digitally to a global audience. The organization reaches over 20,000 technology professionals annually, through more than 15 events each month. SVForum partners include global leaders Deloitte, DLA Piper, IBM, Microsoft, Qualcomm, Siemens, and SAP, as well as leading venture capital firms, and service providers.
For more information, visit the SVForum website at www.svforum.org.
Featured Product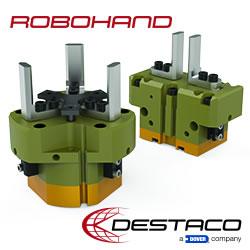 Destaco's Robohand RDH/RTH Series 2 and 3 jaw parallel grippers have a shielded design that deflects chips and other particulate for a more reliable, repeatable operation in part gripping applications ranging from the small and lightweight, to the large and heavy. RDH Series of Rugged, Multi-Purpose Parallel Grippers for Heavy Parts - Designed for high particulate application environments, automotive engine block, gantry systems, and ideal for heavy part gripping The series includes eight sizes for small lightweight to large/heavy part gripping. RTH Series of Powerful, Multi-Purpose Parallel Grippers for Heavy Parts - Designed for large round shaped parts, automotive engine block and gantry systems, and heavy part gripping. They're available in eight sizes for small lightweight to large and heavy part gripping.