MakerBot and Layer By Layer Team Up to Add Streaming and Digital Rights Technology to MakerBot 3D Ecosystem
BROOKLYN, N.Y. — November 13, 2014 — MakerBot is pleased to announce the acquisition of the start-up software company Layer By Layer. Layer By Layer, originally based in California, joined MakerBot to help create user-friendly platforms that are fully assimilated into the MakerBot 3D Ecosystem and has been working with MakerBot on developing systems that help make 3D printing technology easier and more accessible through innovations in design combined with computer science. The goal of the acquisition of Layer By Layer is to help accelerate MakerBots position in the entertainment and 3D printing management spaces, as part of its effort to build a more robust 3D ecosystem.

One of the recent projects the Layer By Layer team has tackled is the ability for MakerBot to implement streaming technology into the MakerBot Digital Store and provide a digital rights management system for 3D printable files. Secure streaming, launched in October with MakerBots Digital Store, is a first for MakerBot and what the company believes to be a major inducement for more licensed content partners to join MakerBot and provide their intellectual property for 3D printing.
"Were excited to announce the acquisition of Layer By Layer and move forward with the projects we have been working on with the Layer By Layer team. We see this as a major step forward in being able to support not only our licensed content partners with a secure digital rights management system, but other content as well," noted Jenny Lawton, acting CEO of MakerBot. "The team has been working on several really interesting projects and we are excited to implement added features and benefits to the MakerBot 3D Ecosystem."
Layer By Layer was started two years ago by Jonathan Schwartz, Max Friefeld, Graham Tremper, Dustin Kane, Becca Schwartz and Oliver Ortlieb. As part of the acquisition, Max Friefeld, Oliver Ortlieb and Jonathan Schwartz have joined MakerBot full-time and work out of the companys Brooklyn office directly with MakerBots Digital Products, Software and Business Development groups. It was Layer By Layers goal to push 3D printing forward by building a complete and seamless user experience. The team has been, MakerBot believes, successful in bringing 3D printing technology to a level where there is little need for expertise to run a 3D printer or move files between 3D software and the printer.
"Since we started Layer By Layer almost two years ago, it has been our goal to push 3D printing forward by building a complete and seamless user experience ­ from finding something you want to print, to actually printing it," noted Max Friefeld, co-founder of Layer By Layer. "We have always strived to make 3D printing a more accessible technology by reducing the barrier to entry with innovations in design and computer science. So, as you probably can tell, we're incredibly excited to now be working at MakerBot, where we'll continue to innovate and explore within 3D printing."
The MakerBot 3D Ecosystem encompasses MakerBot Replicator 3D Printers; the MakerBot Digitizer Desktop 3D Scanner; MakerBot software and apps, including MakerBot PrintShop and MakerBot Mobile; the MakerBot MakerCare Protection Plan; MakerBot Retail Stores; MakerBot Learning; and partnerships and MakerBot Digital Store content. The MakerBot 3D Ecosystem is a differentiator for MakerBot in that it provides tools to help make 3D printing easy and accessible for everyone, from engineers, architects and industrial designers, to teachers, students and artists, to even those who want to utilize the power of 3D printing in the home. The MakerBot 3D Ecosystem has also been designed with the future in mind. While MakerBot 3D printing and scanning hardware is at the center of the MakerBot 3D Ecosystem, the power comes from MakerBots continual updating of its software and apps to work toward constantly improving the 3D printing process and experience. to ensure that a new extruder can be easily swapped in when new filament materials become available.
To learn more about MakerBot, visit makerbot.com.
About MakerBot
MakerBot, a subsidiary of Stratasys Ltd. (Nasdaq: SSYS), is leading the Next Industrial Revolution by setting the standards in reliable and affordable desktop 3D printing. Founded in 2009, MakerBot sells desktop 3D printers to innovative and industry-leading customers worldwide, including engineers, architects, designers, educators and consumers. To learn more about MakerBot, visit makerbot.com.
Featured Product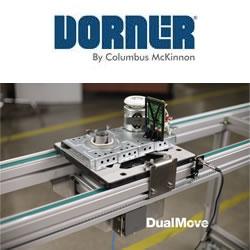 Dorner's 2200 Series Precision Move Pallet Systems are ideal for assembly automation. With features such as an innovative timing belt conveyor design and industry best pallet transfers, they get your product to the exact location, at the exact time and in the exact position it needs to be. They are now available with new options such as heavy load corner modules with 150 lb. capacity and 180 degree tight transfer corners for compact loops.