The ruggedized X8+ not only has the power to carry professional mirrorless system cameras, but also provides the lifting capacity to do delivery and real work, making it much more than a flying camera.
Berkeley, CA November 17, 2014

3D Robotics, the leading North American drone company across both consumer and enterprise channels, today announced the launch of the X8+, a tough, ready-to-fly personal drone that extends the capability of 3DRs fully-automated flight platform into the professional realm. In addition, 3DR also introduced the companys new plug-and-play first-person view (FPV) kit, providing everything a user needs to start live streaming a video feed from the camera on the X8+ or IRIS+ drones.
Personal drones at these consumer price points are usually designed to carry a lightweight action camera through the air. The X8+ can do that—and can also carry larger pro-line cameras—but its more than a flying camera. Its really the first drone at a consumer price point that could be called an intelligent tool.
Basically, 3DR has taken care of making a tough robot that can fly—consumers can now build on that platform and make of it what they can. Maybe its easiest to think of the X8+ as a power drill that users can outfit with different bits. Beyond photography and videography, for instance, it can be used to generate highly precise maps and 3D models, collect aerial data in automated and infinitely repeatable flight paths, carry different sensors for gathering data beyond the visible spectrum, generate point clouds for accurate ground survey, and can even be outfitted with magnets for real delivery potential. The aluminum frame can take the elements, but its also light enough to maximize aerial mobility; it folds into a compact and easily transportable form perfect for on-site use in areas like mining, construction, search & rescue, agriculture and professional cinematography. And like all 3DR drones, the X8+ comes with free mission planning software, 3DRs world-leading open source flight platform and a remote controller.
The X8+ also now features 3DRs world-first 3PV™ Follow Me mode, meaning the copter can track any GPS-enabled Android device with a variety of changeable angle and distance presets that will keep consumers in the center of creative videos. Or, if used industrially, that will keep whatever a user needs to track in the center of the copters field of vision.
As a flying camera, the lifting power of the X8+ (max takeoff weight of over 2 kg, recommended payload 800g battery and 800g payload) offers users options for attaching an array of gimbals, cameras and sensors. This means that instead of only being able to carry a GoPro with a wide-angle lens, the X8+ can also carry gimbals that support a professional quality mirrorless video camera, such as the Black Magic Pocket Cinema Camera, or a pro point-and-shoot like the Panasonic LX100 or Canon S110. This carrying capacity unlocks options: you can choose different lenses for video with the Black Magic, and the different focal length settings for the LX100 allow aerial photographers to set a zoom for tight and focused shots while flying at a distance; when flying with a tiny wide-angle lens users would have to get the copter physically closer to a subject. Pair the X8+ with 3DRs FPV kit and consumers now have everything needed to scout, monitor and shoot professional-grade aerials.
The X8+ includes automated mission planning right out of the box, open source software platforms compatible with Mac, Windows, Android, and Linux systems. With free DroidPlanner 2 software, X8+ users can plan flights by simply drawing a flight path on any Android tablet or phone, which allows for hands-free flight control. The X8+ drone will go where you tell it to go, and can even keep its camera pointed at the same location via a Region of Interest (ROI) waypoint throughout the entire flight. This enables autonomous journeys and automatically stabilized photo, video and data capture.
Features of the 3DR X8+
*Lifting power to carry an array of customizable professional payloads
*Redundant propeller system for reliability and flight protection
*Max takeoff weight of over 2 kg, with flight times up to 15 minutes depending on payload.
*Robust design for on-site and repeatable real world use
*Intelligent tool enabling mapping, survey, 3D modeling, delivery of small goods
*Fully-automated flight control
The X8+ is now available for purchase at http://www.3DR.com, for only $1,350. 3DRs FPV kit is also available now at $349.99.
Facebook Page: https://www.facebook.com/3drobotics
YouTube video of X8+ Drone
Photos of X8+ Drone
Featured Product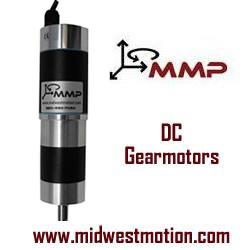 Midwest Motion Products, Inc. (MMP), is a well-established, healthy, & growing Family Owned Business, founded in 2001. MMP specializes in cost-effective standard DC Gearmotors, Motors, Controls, and ancillary equipment. Known world-wide for our "Lightning Fast" delivery capabilities, you can have a Standard Planetary or Right Angled DC Gearmotor BUILT and SHIPPED, often on the very same day you call. Offering Brushed and Brushless designs, with winding voltages ranging from 12 VDC to 120 VDC, we can deliver your "Robust & Reliable" samples within HOURS, instead of weeks, or even months.