Du-Co Ceramics Integrates Robotics Into Ceramics Parts Manufacturing Process
BOSTON, Nov. 18, 2014 -- Du-Co Ceramics is the latest complex material manufacturer to leverage robotics as an innovation platform, adding Rethink Robotics' Baxter robot to its ceramic parts production line. Baxter works alongside the Du-Co team to place ceramic parts into a saggar, readying the parts for firing in the kiln.

Du-Co Ceramics is a leader in the 'Made in America' movement, creating and distributing technical ceramic products around the world. Headquartered in Saxonburg, PA, Du-Co employs more than 250 employees at two separate manufacturing facilities in the United States.
"As a custom shop, every day presents a new challenge on the plant floor. Most automation solutions don't have the flexibility needed to respond quickly enough to these changes in demand - but Baxter does," said Josh Rupp, Process Engineer at Du-Co Ceramics. "Baxter picks up and moves parts four at a time - allowing us to respond in record time."
With one Baxter deployed for less than a month, Du-Co already has plans to use a second Baxter in their process. After a smooth integration into a pick-and-place task, Du-Co envisions Baxter handling machine tending and bulk handling tasks in the future. Baxter can rapidly adapt to changes in process and parts allowing Du-Co to improve operational efficiency while maintaining precision and quality in its complex ceramics parts.
"Du-Co Ceramics is an excellent example of a manufacturer looking to balance flexibility with efficiency, precision and cost," said Jim Lawton, CMO of Rethink Robotics. "Like many of the manufacturers we work with, Du-Co is maintaining a competitive edge by building the factory of the future, leveraging smart, adaptive automation solutions that can quickly adjust to dynamic environments."
For more information, please visit www.rethinkrobotics.com.
Featured Product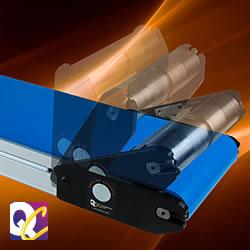 AS40 Conveyors are designed for ease of use and simple integration with robotic applications. Built on a rigid aluminum frame, they feature tee slots for rapid accessory mounting and a tail that flips up at the push of a button for easy under-belt cleaning and belt changes. Nosebar tails are available for transferring small parts between conveyors. All conveyors include a 10 Year Warranty and most are available with a fast five day lead time.