This solution is ideal for on-machine mounting and fast, precise format adjustment.
HAUPPAUGE, NY (PRWEB) November 18, 2014

Festo introduces its all-in-one servo motor and drive unit, the MTR-ECI. The MTR-ECI integrated motor is specifically designed for automating manual changeovers. With standard stainless steel shaft, IP65 protection class rating, and food grade lubrication, the MTR-ECI is well suited for a wide range of motion actuation applications and environments.
The MTR-ECI features a brushless motor, integrated gearbox, power electronics, controller, absolute encoder, and EtherNet/IP interface. The MTR-ECI does not require a cabinet and is ideal for on-machine mounting and fast, precise positioning during product changeovers, adjustments to conveyors, paper or foil cutting, and other format adjustment applications.
Significantly less wiring is needed for this integrated motor/drive. The unit only requires a voltage supply and a fieldbus or multi-pin connection. Communication connectivity to Rockwell PLCs via EtherNet/IP simplifies integration within the Rockwell control architecture.
Complete commissioning can be performed using simple teach-in functions. Built in electronics can store up to 16 pre-configured motion profiles (position and speed). Both acceleration and deceleration parameters are pre-configured and applicable to all motion profiles. Homing can be accomplished with a sensor or against a hard stop.
Power is provided by a 24V/48V DC supply. Nominal velocity and torque ranges up to 592 RPM and 5.6 Nm respectively. The low power setting adds to the safety of the changeover process. The integrated multi-turn absolute encoder eliminates the need for homing the machine on startup which saves time and increases productivity. Brushless EC motor technology provides longer service life and durability.
As the ability to withstand high pressure, high temperature wash down is an ever increasing trend, Festo is also currently developing an IP69K variant for use in these applications. This variant uses a stainless steel housing to protect the motor and integrated components.
For more information on the Festo next generation MTR-ECI all-in-one servo motor/drive including the IP69K variant, call Festo at 800-993-3786 and visit http://www.festo.us.
About Festo
Festo is a leading manufacturer of pneumatic and electromechanical systems, components, and controls for process and industrial automation. For more than 40 years, Festo Corporation has continuously elevated the state of manufacturing with innovations and optimized motion control solutions that deliver higher performing, more profitable automated manufacturing and processing equipment.
Featured Product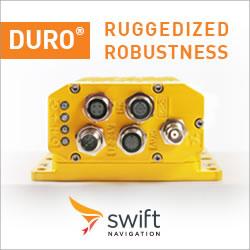 Duro® is a ruggedized version of Swift Navigation's Piksi® Multi RTK GNSS receiver. Built to be tough, Duro is designed for easy integration into existing equipment. This affordable, easy-to-deploy GNSS sensor delivers robust, centimeter-accurate positioning while protected against weather, moisture, vibration, dust, water immersion and the unexpected that can occur in outdoor long-term deployments.