High-speed transfers reduce data bottlenecks and increase efficiency for high-end applications
PLYMOUTH, Minn. (Nov. 17, 2014) - With the ability to transfer up to 10 gigabits per second (Gbps) of data, TURCKs new M12 X-Code connector increases throughput and efficiency in high-end systems and applications. The M12 X-Code connector offers superior signal strength for high-speed Ethernet data transfers, compared to traditional M12 connectors that support up to 10/100 megabits per second (Mbps) Ethernet. Its ability to handle high bandwidth files and minimize transfer time reduces data bottlenecks and improves performance.

To achieve 10 Gbps Ethernet transmission speed, the M12 X-Code connector features advanced shielding design paired with Category 7 copper cable. Each of the four data pairs are shielded from each other within the connector, providing increased isolation against cross talk, or unwanted signal coupling from one balanced twisted pair to another.
"Newer applications for video, camera and vision systems, as well as high-speed data acquisition, demand a network cable that can handle more than 10/100 Mbps data transfer," said Laura Schweitz, product manager at TURCK. "Gigabit Ethernet can provide the speed and capacity needed. Using the TURCK M12 X-Code connector, our customers now have a dependable communication solution for these high-speed applications."
Featuring a robust, compact design, the IP67-rated M12 X-Code connector reliably operates in temperatures ranging from -20 degrees Celsius to 70 degrees Celsius. The overmolded construction eliminates time-consuming hand-wiring and misconfigurations, and is ideal for Industrial Ethernet applications requiring high speed and greater bandwidth.
To find out more about the M12 X-Code connector, please visit www.turck.us.
Featured Product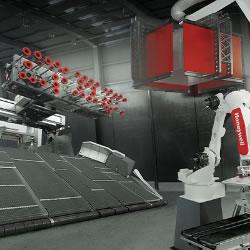 Challenges on the loading dock are characteristic of greater pressures from the rise of e-commerce. Loading and unloading freight from trailers, trucks and shipping containers are arduous, repetitive tasks plagued by high turnover. Even with regularly available staff, manually unloading freight and the constant lifting and twisting results in fatigue and inconsistent, declining productivity. Robotics capable of fully automating unloading tasks bring a new paradigm to the dock. High performance and flexibility push unloading from a labor-heavy, manual chore to an automated, refined process. High-performing DC workers can take more desirable positions, with relief from unpleasant work conditions. Management gets to replace uncertainty and staffing challenges with a reliable, automated process, with data to fuel continuous improvement.