The magazine has undergone a major content update and redesign
ATLANTA, Nov. 19, 2014 -- For three decades, the Georgia Institute of Technology's Research Horizons magazine has showcased the Institute's groundbreaking research.

Now, the magazine has undergone a major content update and redesign that coincides with the launch of three additional research communications tools — all aimed at presenting Tech's findings in more contemporary, compelling, and engaging way.
In the magazine itself, which started as a four-page, black and white publication, readers will see greater emphasis on visuals, including larger photographs, more illustrations and accompanying graphics. They also will see shorter, more compact stories, and punchier headlines.
The publication's new look is part of a broader strategic research marketing plan that also includes a revamped monthly electronic newsletter and a new website (www.rh.gatech.edu) with videos, real-time updates, and shareable features. And it includes the launch of a digital e-zine, through Georgia Tech's app on the Apple storefront, for smartphones and tablets.
The four portals now give readers multiple channels to access research news at Tech.
The efforts underscore what Executive Vice President for Research Stephen E. Cross has identified as the core goals for his unit: to pursue transformative research, strengthen collaborative partnerships, and enhance the societal and economic impact of those findings.
"I see this as more than just a magazine redesign. It's a rethinking of how we talk about and how we share research that comes out of Georgia Tech," said Cross.
The changes follow several months of study, focus group research, and planning centered on what Research Horizons readers like, how to increase the publication's appeal, and how to make it more useful to subscribers, according to Kirk Englehardt, Tech's director of research communications.
Research Horizons also is focused on presenting a broader mix of stories to reflect more of the work being done across Tech's 12 core research areas, which include biosciences, electronics, energy, materials, national security, and robotics.
That reflects a strategic decision to broaden the magazine's focus to appeal to business and industry, in addition to the federal government sponsors of Tech research, the original catalysts for Research Horizon's creation in 1983.
Featured Product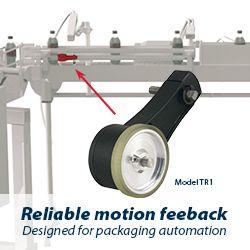 EPC is excited to announce our NEW online 3D Configurator. This new tool makes it even easier to configure EPC's products exactly how you need them for your application. The 3D Configurator interface is intuitive and works in any web browser for both desktop and mobile. It'll only take you a moment to learn your way around the program. Careful, though: it's so fun to play with, you may spend a whole afternoon on it!