Richard Erb to Become Executive Director of RoboUniverse
NEW YORK, Nov. 20, 2014 -- MecklerMedia Corporation (OTCQX: MECK) announced that the company will launch RoboUniverse, a new trade show and conference aimed at exploring the development and use of home, education, and business robotics, on May 12-13 at the Javits Convention Center in New York City.

Richard Erb, who has served as the General Manager for RoboBusiness since 2011, will join MecklerMedia as the Executive Director of the RoboUniverse trade show series worldwide.
"There has been incredible growth in the robotics industry recently, yet there is no significant worldwide trade show that analyzes the educational, business, and technical opportunities within the space," says Alan Meckler, CEO of MecklerMedia. "Just as we've become leaders in 3D printing and cryptocurrency conferences, we hope to be in the same position with robotics by the end of 2015."
About MecklerMedia
MecklerMedia (OTCQX: MECK) is the leading producer of global trade shows, conferences, and digital publications covering 3D printing, cryptocurrency, robotics, and social media. MecklerMedia produces more than 25 conferences annually, including Inside 3D Printing, Inside Bitcoins, 3D Print Design Show, and Allfacebook Marketing Conference. MecklerMedia's news sites include Inside Bitcoins News, 3D Printing Industry, and Allfacebook.de, which provide up-to-date coverage to help drive business forward.
Featured Product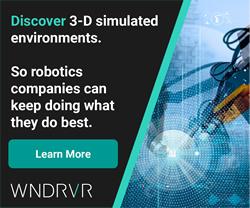 Develop new robotic capabilities with ROS 2 for VxWorks. ROS 2 for VxWorks® project provides custom modifications and build scripts to integrate the Robot Operating System 2 (ROS 2) framework with VxWorks 7. ROS 2 is a set of software libraries and tools that aid in building robot applications. Build ROS 2 for VxWorks using 1) with a VxWorks SDK that is available on the site under a free non-commercial use license; or via 2) with a commercially-licensed VxWorks product.