KUKA Robotics to debut KORE; KUKA Official Robotics Education program in booth #808 November 20th- 21st, 2014
ACTE CareerTech VISION 2014

SHELBY TOWNSHIP, Mich. & NASHVILLE, Tenn.--KUKA Robotics to debuts KORE, the KUKA Official Robotics Education program at ACTE CareerTech VISION 2014.
The KORE program presents high schools, vocational schools, community colleges and universities the opportunity to offer Certificate based robot education on official KUKA products. Students will learn basic robot programming and operation skills on exercise hardware that is similar to the onsite classes taught in Shelby Township, MI at the KUKA College. Through the KORE program, students will learn fundamental robot basics on the same robots and control technology that is utilized in a variety of industries.
The introduction of the KORE program supports the increase in education curriculum incorporating robotic based training. The KUKA KORE program adds robotic learning to Career Technical Education programs, offers curriculum and project-centered activities to prepare students when working with real world industrial robots, joins innovative robotic curriculum certification with career cluster credentials and supporting community workforce retaining initiatives.
"We developed the KUKA KORE program to allow the education community to offer stimulating education and training on KUKA products; in providing the KORE program we can help cultivate the next generation of robotic engineers and technologists." James Cooper, Vice President of Sales, KUKA Robotics
As part of the introduction the KORE Package will be on demonstration in booth #808. The KORE Cart will showcase the KR AGILUS KR 6 R700 sixx in the portable KORE training carts, designed specifically for the education market. The KORE training cart features collapsible walls allowing for portability through standard door frames, safety features, mounting hardware, and KORE course exercise and lab equipment, and KORE course curriculum.
About the KUKA Robot Group
KUKA Robotics Corporation along with KUKA Roboter GmbH, Augsburg Germany (part of the KUKA Aktiengesellschaft group of worldwide companies), ranks among the world's leading suppliers of industrial robots and material handling vehicles. Core competencies include the development, production, and sale of industrial robots, controllers, software, linear units, and omniMove omni-directional motion platforms. KUKA robots are utilized in a diverse range of industries including the appliance, automotive, aerospace, consumer goods, logistics, food, pharmaceutical, medical, foundry and plastics industries as well as multiple applications including material handling, machine loading, assembly, packaging, palletizing, welding, bending, joining, and surface finishing. KUKA robots range from 5kg to 1300kg payloads, and 635mm to 3900mm reach, all controlled from a common PC based controller platform. The company is the market leader in Germany and Europe and the number three in the world. KUKA Robot Group employs about 3180 people worldwide. In 2012, sales totaled 742,6 million Euro. 25 subsidiaries provide a presence in the major markets of Europe, America and Asia.
Featured Product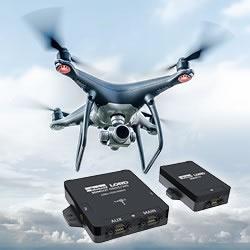 The C-series high performing inertial sensor package provides an OEM form-factor that is optimized for size and weight in Off Highway, Unmanned Ground Vehicles/Mobile Robots and Unmanned Aerial Systems. It's compact and low-profile anodized aluminum housing can be connected directly to a printed circuit board using a UART header or a Samtec FFSD ribbon cable and 2-56 fasteners.