Automate 2015, which takes place March 23-26, 2015 in Chicago, Illinois was recently named one of the "Top 10 Manufacturing Shows" in the United States.
(Ann Arbor, Michigan, USA - December 3, 2014) The Association for Advancing Automation (A3) announced today that new and returning exhibitors of the Automate 2015 show have already secured over 150% of exhibit floor space compared to the last show in 2013. Automate 2015, which takes place March 23-26, 2015 in Chicago, Illinois was recently named one of the "Top 10 Manufacturing Shows" in the United States.

"Todays automation industry is rapidly growing with new innovations, markets and technology," said Jeff Burnstein, President of A3. "The growth of Automate 2015 reflects the enthusiasm and advancement around automation technology. Automate 2015 provides suppliers, distributors, integrators, and end users an avenue for making connections, learning about new technology, discussing challenges and discovering automation solutions and opportunities."
In addition to the show, Automate 2015 includes a conference featuring the 46th International Symposium on Robotics. The conference provides practical classes that are taught by experienced industry professionals who know the challenges faced by companies using or considering using automation. Topics cover key issues in robotics, motion control, vision and imaging, and related automation segments. Attendees from all levels, whether seeking a basic level of automation or looking for more advanced courses, will discover practical solutions they can take back with them to the workplace. Professionals in the vision industry can take special classes that are required to earn the highly-coveted Certified Vision Professional (CVP) designation. The CVP designation is offered at both the Basic and Advanced Levels, with testing also offered at Automate 2015. Registration for the conference is now available.
On Tuesday, March 24, 2015, basketball legend and television sportscaster Bill Walton will make an appearance at the Automate Show. The Walton appearance is sponsored by ATI Industrial Automation and SCHUNK. Attendees can meet Bill Walton at the ATI Industrial Automation and SCHUNK booths and also chat with him at the Automate Madness Networking Party held at McCormick Place on Tuesday, March 24, 2015 at 5:30pm. The basketball-themed party provides networking with exhibitors, speakers and attendees over drinks, food and games. To register for tickets to the party, visit the Automate Show website.
Automate 2015 is collocated with the ProMat show, sponsored by MHI. For more information and details about Automate 2015, please click here or contact James Hamilton at 1 734-994-6088.
About the Organizer
Automate is organized by the Association for Advancing Automation, the global advocate for the benefits of automating. A3 promotes automation technologies and ideas that transform the way business is done. A3 is the umbrella group for Robotic Industries Association (RIA), AIA - Advancing Vision + Imaging, and Motion Control Association (MCA). RIA, AIA, and MCA combined represent over 780 automation manufacturers, component suppliers, system integrators, end users, research groups and consulting firms from throughout the world that drive automation forward.
For more information, please visit our websites: A3; RIA; AIA; MCA. Automate Show and Conference information can be found here. To reach Association Headquarters, call 734-994-6088.
Featured Product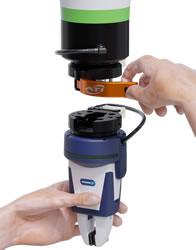 ATI Industrial Automation's MC-10 Manual Tool Changer provides a cost-effective solution for quickly changing tools by hand. Its compact yet robust design is optimized for collaborative robot applications. The ergonomic twist-collar locking mechanism ensures a secure attachment of the tool and easy manual operation with tactile feedback. This Manual Tool Changer can carry payloads of up to 22 lbs and includes multiple fail-safe features that resist vibration and prevent loosening. The MC-10 Manual Tool Changer has integrated air pass-through connections and options to connect electrical utilities if needed. ATI will feature the new MC-10 along with a variety of other robotic demonstrations and product displays at this year's IMTS show in Chicago (Booth #236417).