Charlotte Business Journal Spotlights Integro Technologies as a Leader in Vision Integration Software
Integro Technologies Corp. was featured in Manufacturing Quarterly by the Charlotte Business Journal as an innovator in manufacturing software and vision integration programming.

"Software, programming take center stage at factories", written by Ken Elkins, highlights Integro as a leader in machine vision software, systems integration, and data analytics.
"We are very proud to be recognized by the Charlotte Business Journal, not only for our vision integration projects in the Charlotte region, but for the work we do to support manufacturing across the United States," said Shawn Campion, President of Integro Technologies.
The article details the ways in which Integro Technologies is "helping U.S. manufacturers compete by automating their processes and production lines."
Integro Technologies is a machine vision and ID integration firm. Since its founding in 2001, Integro has cultivated strategic partnerships within the machine vision, optics, and robotics industries.
They are an Advanced Imaging Association (AIA) Certified Integrator, 1 of only 8 internationally, and a Cognex Parter System Integrator (PSI), having been recognized as the Top Cognex PSI in North America three years in a row. They are certified vision integrators for Keyence, Omron, Universal Robotics, and Microscan. Our other partnerships include Kuka and Yamaha Robotics.
Integro's staff is well-trained, leveraging a combined industrial vision experience of over 330+ years of hands-on experience. Over 500 clients worldwide rely on their expertise.
Integro Technologies has been recognized by Control Engineering as a "System Integrator Giant" for three consecutive years (2012, 2013, and 2014) and has been named by the Charlotte Business Journal as a "Fast 50", one of the fastest-growing companies in the Charlotte-region.
Integro Technologies' Corporate Offices and manufacturing facility are located in Salisbury, North Carolina at the Salisbury Business Center. They have six company-owned sales offices located in Maryland, Indiana, Alabama, South Carolina, Tennessee, and Virginia.
To read the complete article in the Charlotte Business Journal, visit their website at http://www.bizjournals.com/charlotte/print-edition/2014/11/21/software-programming-take-center-stage-at.html.
To learn more about Integro Technologies, visit their website at http://www.Integro-Tech.com.
Featured Product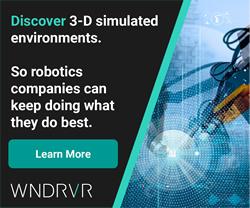 Develop new robotic capabilities with ROS 2 for VxWorks. ROS 2 for VxWorks® project provides custom modifications and build scripts to integrate the Robot Operating System 2 (ROS 2) framework with VxWorks 7. ROS 2 is a set of software libraries and tools that aid in building robot applications. Build ROS 2 for VxWorks using 1) with a VxWorks SDK that is available on the site under a free non-commercial use license; or via 2) with a commercially-licensed VxWorks product.