First-Ever Commercial Drone Expo Debuts in Los Angeles on December 13, 2014 Event Rallies Commercial Drone Community of Makers, Users and Enthusiasts Across All Sectors and Industries
LOS ANGELES, Dec. 8, 2014 -- On Saturday, December 13, the UAVSA (Unmanned Autonomous Vehicle Systems Association) presents the first-ever Drone Expo at the Los Angeles Memorial Sports Arena. Open to the general public, this all-day event aims to serve a growing community of entrepreneurs, professionals and enthusiasts designed to inform, educate and discuss how this technology can be better and safely utilized for business, health, public safety, urban planning, entertainment and other commercial purposes.

The UAVSA has recruited a wide-range of sponsors and supporters whose expertise cover multiple and diverse aspects of this ever-expanding technology from the crowdfunding and launch of cutting-edge drones, to new software and tools for building, flying and operating drones.
"There is a revolution underway and drones are a key part of that revolution, and they are here to stay. What was once the realm of hobbyists is now essential in our national security and is rapidly becoming a major tool in our economy," states Wil Cashen, Chairman of the UAVSA Systems Association and founder of the Tesla Foundation Group, which incubated the Association. "UAV technologies are creating the personal airways for the future of human transportation and commerce." The Association is in line with the Tesla Foundation Group's goals to help ensure that the next generation of students and workers have access to training, compliant use, and technological innovation.
The event will feature more than three dozen exhibitors, ongoing panels and a dedicated "Fly Zone" for live drone demonstrations. Speakers and exhibitors include DJI, 3D Robotics, Aerial Media Pros, GoPro Cases, Zeiss, UC Berkeley and many more. Learn4Life the Tesla Foundation's education partner will be on hand, and the winner of a giveaway for a Phantom 2 Aerial Photography Drone (valued at more than $600) will be announced.
The day will feature an extensive range of keynotes and panels including the current legal and ethical ramifications of this new technology by Lisa Ellman, former White House counsel on UAS, of McKenna, Long & Aldridge LLP's Unmanned Aircraft Systems Practice Group; Brandon Basso, 3D Robotics; Klever Freire, DreamQii; Michelle Moskowitz, Director, Advocacy and Institutional, Government and Community Relations UC Berkeley; Louis Stuart, California Governor's Office of Innovation/GoBiz; and consultant and former Executive Vice President of UAVSI, Gretchen West.
Also speaking, is Raja Sengupta, a UC Berkeley professor who is the co-lead on the UAS INSIGHT Team for the FAA sanctioned Grant Bid for a Center of Excellence. The Tesla Foundation Group is working with UC Berkeley in the FAA Standards and Information Technology Solutions Grant Bid for the Registration and Tracking of all UAV vehicles in the national air space. The consortium will utilize and innovate the next level of information technology and sensor technology to create the registration, tracking, data acquisition, and regulatory standards for operations of UAV vehicles in the American airspace for all commercial and civilian use and the integration of all airspace vehicles.
For more information about UAVSA's Drone Expo and to purchase advance tickets, please go to http://www.uavsa.org/droneexpo. Hours are 10 a.m. to 7 p.m. on December 13, 2014. Children 12 and under are admitted free of charge with adult admission.
About UAVSA
UAVSA (Unmanned Autonomous Vehicle Systems Association) is the first and largest commercial drone association specifically focused on commercial, semi-professional, and enthusiast drone use. UAVSA is a non-profit, sponsored by the Tesla Foundation Group, a 501c (3) corporation.
Featured Product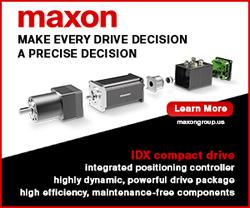 Discover the world of drive technology from a leading worldwide supplier of innovative customized drives. - Manufacturer of brushed and brushless DC motors, gearheads and motion controllers - Custom drive systems, quantities as low as a single unit - Certified for aerospace and medical applications