PC-based controllers lower costs, delivering equal or better precision, performance
TAIPEI, Taiwan--KingStar today released version 2.0 of its innovative machine control products: KingStar Motion and KingStar IO, which target industrial machines requiring motion control and positioning systems.

KingStar 2.0 includes architectural improvements to take advantage of multiprocessor systems, new functionality in more than a dozen areas, and increased servo control support, the company said.
KingStars all-software approach stands apart from other machine control solutions, allowing for the creation of software-only, PC-based controllers that lower costs while delivering equal or better precision and performance.
The software-only approach uses the EtherCAT standard; the power of Industrial PCs; and the Windows operating system, enhanced by hard real-time software that transforms Windows into a real-time operating system (RTOS).
KingStar Motion software replaces costly motion control boards such as those from Adlink, Advantech, Googol, Adtech, Weihong and others. KingStar Motion also supports CANOpen over EtherCAT further lowering the total costs.
Engineers customize the control system for their machine without facing the challenges and worries of engineering real-time control threads required for high-speed precision. Engineers work exclusively in Windows in the "Open Loop" process and submit one or more commands to the motion kernel API, which handles the rest of the "Closed Loop" processing.
KingStar IO exposes the real-time interface that allows customers to integrate their own motion control algorithms or software. This solution is for customers that want to use CANopen over EtherCAT, but develop their own motion controller.
The strength of this approach is that the customer has kernel level control of motion commands via a powerful Runtime that transforms Windows into a real-time operating system (RTOS). The resulting machine control is highly customizable and has hard real-time, high-precision capabilities.
Both KingStar Motion and KingStar IO have separate Professional and Entry editions.
Featured Product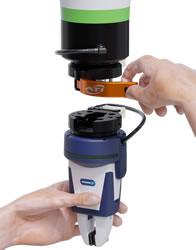 ATI Industrial Automation's MC-10 Manual Tool Changer provides a cost-effective solution for quickly changing tools by hand. Its compact yet robust design is optimized for collaborative robot applications. The ergonomic twist-collar locking mechanism ensures a secure attachment of the tool and easy manual operation with tactile feedback. This Manual Tool Changer can carry payloads of up to 22 lbs and includes multiple fail-safe features that resist vibration and prevent loosening. The MC-10 Manual Tool Changer has integrated air pass-through connections and options to connect electrical utilities if needed. ATI will feature the new MC-10 along with a variety of other robotic demonstrations and product displays at this year's IMTS show in Chicago (Booth #236417).