The Festo Design Tool 3D for pneumatic systems genuinely reduces the amount of system design work and therefore saves a considerable amount of time.
Augsburg, Esslingen, Germany, Dec 9, 2014 -- Fast, reliable and efficient - the configuration software Festo Design Tool 3D reduces the risk of errors when designing and ordering system modules and offers greater convenience. The Festo Design Tool 3D was developed in cooperation with CADENAS the software manufacturer from Augsburg. Delivering system modules as a complete package with one order item simplifies logistics and assembly operations.

Until now, there was always a residual risk when dimensioning and ordering pneumatic drives. Many individual system components had to be placed manually by designers using CAD systems, and the result was long lists of items to be ordered. The potential for errors was therefore large.
More security
There is now an answer to this problem - the new Festo Design Tool 3D provides more security. Fast, reliable and efficient, this configuration software provides a convenient way of dimensioning standard cylinder modules with accessories in all the usual CAD formats.
The Festo Design Tool 3D for pneumatic systems genuinely reduces the amount of system design work and therefore saves a considerable amount of time. The risk of errors when compiling parts lists and ordering individual components is significantly lowered.
Fast installation, simple selection
This tool can be installed locally on the user's own computer in just a few steps and is then fully operational. (Download in the Festo support portal: here) The Festo Design Tool 3D not only allows the required pneumatic drive to be selected easily but also automatically places the chosen accessories on the cylinder in accordance with the user's needs.
All that system designers need to decide is whether they would like to receive a complete cylinder module pre-assembled in accordance with the client's needs or would rather have a so-called "PrePack" as part of a complete package. Finally, the modern CAD configuration software generates one order item in the Online Shop basket. By following this specific procedure with the Festo Design Tool 3D, users can avoid inadvertent errors in the type codes in parts lists and in the relationships between components in CAD drawings. This procedure also reduces the amount of work needed in all subsequent departments.
Saves time and work
Whether they are engineers, buyers, storekeepers or installation technicians, the new CAD configuration software Festo Design Tool 3D offers all users more security and reduces their workload. The simple graphic overview of accessories, the automatic error-free placing of accessories, the elimination of the need for individual downloads and the efficient way in which an order can be placed with one order item - all this minimises the risk of configuration errors and saves time all along the entire value chain.
The subsequent delivery as a single package makes project engineering simpler and also reduces packaging waste. Whether supplied pre-assembled or as a "PrePack", the installation of pneumatic drives with the Festo Design Tool 3D is secure and reliable.
The Festo Design Tool 3D is now available in 20 countries. Just click: www.festo.com/FDT-3D
About CADENAS GmbH
CADENAS is a leading software manufacturer in the areas Strategic Parts Management and parts reduction (PARTsolutions) as well as Electronic Product Catalogs (eCATALOGsolutions). With its customized software solutions, the company acts as a link between the component manufacturers and their products and the purchasers.
With its 300 employees in 15 locations worldwide, the name CADENAS (Spanish for "process chains") has stood for success, creativity, support, and process optimization for 20 years.
More information can be found under: www.cadenas.de/en
Featured Product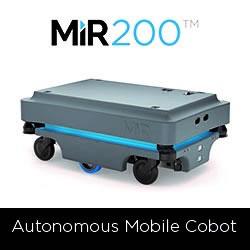 MiR200 is a safe, cost-effective mobile robot that automates your internal transportation. The robot optimizes workflows, freeing staff resources so you can increase productivity and reduce costs. MiR200 safely maneuvers around people and obstacles, through doorways and in and out of lifts. You can download CAD files of the building directly to the robot, or program it with the simple, web-based interface that requires no prior programming experience. With its fast implementation, the robots offers a fast ROI, with payback in as little as a year.