Resources for educators, high school and college students include iRobot Create 2 programmable robot, 3D printable files and starter project instructions
BEDFORD, Mass., Dec. 10, 2014-- iRobot Corp. (NASDAQ: IRBT), the leader in delivering robotic technology-based solutions, today announced exciting updates to the company's successful STEM (science, technology, engineering and math) outreach program, including the launch of Create 2 - a preassembled robot platform, based off the company's Roomba®, that gives educators, students and developers firsthand robotic programming experience. iRobot also unveiled online resources, including 3D printable files for new parts, a faceplate drilling template, and educational projects and instructions. Educational projects are designed to get users up and running quickly with their Create robot.

"As a global leader in robotics technology, iRobot believes its greatest social responsibility is to ignite students' passion for STEM-related careers through the excitement of robots," said Colin Angle, chairman and chief executive officer of iRobot. "Robots have a cool factor unlike any other learning tool. Create 2, with its online resources, reliable hardware born of the award winning Roomba, and ease of customization simply delivers more robot than anything available to students and educators at or near its price. We are so excited to be able to make this available to the educational community."
iRobot's multi-faceted STEM program provides K-12 school systems, universities and nonprofit organizations with a range of resources to help bolster STEM learning - from programmable technology and robot activity books to classroom visits, tours and mentoring.
As part of the company's commitment to supporting STEM education in schools, iRobot is building upon its program to include:
*Create 2 programmable robot platform - a preassembled mobile robot based on the Roomba 600 Series that provides an out-of-the-box opportunity for educators, students and developers to program behaviors, sounds, movements and add additional electronics
*Projects and instructions - basic programming examples and starter projects of varying difficulty to give students and educators a head start on their first robot programming assignment. Initial projects for students and educators include:
** "DJ Create 2" - a roaming, robotic DJ that allows for easy control of music through a Bluetooth enabled mobile device
**"LightBot" - which uses a light painting tutorial to create LED images
*3D printable files - instructions and files to build new parts with 3D printing, including how to replace the bin with a cargo tray and for additional project parts (3D printer not included)
*Communication cable - a serial to USB cable to send commands from a desktop or other computing device to the robot
*Face plate drill template - for safe drilling into the Create 2 and mounting of hardware for projects
iRobot is the lead organizer and founder of National Robotics Week, which will be held April 4-12, 2015. National Robotics Week provides opportunities for students and educators to learn about robotics through a variety of events across all 50 states.
For more information about iRobot's STEM program and Create 2, please visit www.irobot.com/stem.
Create 2 Pricing and Availability
Create 2 is available in the US starting on December 10, 2014 for $199.99. Additional detail on features and availability can be found on www.irobot.com/create.
About iRobot Corp.
iRobot designs and builds robots that make a difference. The company's home robots help people find smarter ways to clean, its defense & security robots protect those in harm's way, and its remote presence robots enable virtual presence from anywhere in the world. iRobot's robots feature proprietary technologies incorporating advanced concepts in navigation, mobility, manipulation and artificial intelligence. For more information about iRobot, please visit www.irobot.com.
Featured Product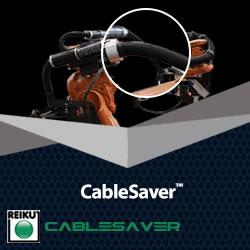 REIKU's Cable Saver™ Solution eliminates downtime, loss of revenue, expensive cable and hose replacement costs, maintenance labour costs. It's available in three sizes 36, 52 and 70 mm. All of the robots cables and hoses are protected when routed through the Cable Saver™ corrugated tubing. The Cable Saver™ uses a spring retraction system housed inside the Energy Tube™ to keep this service loop out of harms way in safe location at the rear of the Robot when not required. The Cable Saver™ is a COMPLETE solution for any make or model of robot. It installs quickly-on either side of the robot and has been tested to resist over 15 million repetitive cycles.