The WSG series of servo-electric 2-Finger Parallel Grippers are versatile, sensitive and simple to use.
They are designed for parts handling and assembly processes where high flexibility or sensitivity are required. SCHUNK has now expanded the series with a long-stroke version and a compact small parts version.

The WSG has a long stroke which allows reliable handling of different components and grip force can be precisely controlled internally. These grippers have part detection and integrated grip force control system. Through standard sensor interfaces in the base jaws, sensors are directly integrated into the gripping process without any additional cabling or interfering contours. By using the optionally available force-measuring fingers, forces which occur at the gripped component can be recorded and allow reliable handling of fragile components.
A specially developed belt drive ensures high jaw speeds and short cycle times achieving speeds of 400 mm/s. High position accuracy is achieved by detection of the gripped components through integrated systems in the WSG and is not monitored via attached end position switches. An integrated energy management feature ensures that the gripper is working at the highest efficiency.
The WSG can be commissioned through a web browser by Ethernet TCP/IP or through Profibus, CAN-Bus, RS232 or via eight virtual digital I/Os integrated as standard. It can also be used for remote diagnosis and for sending out status e-mails. On request, the range of functions can be individually adjusted to the application by using the integrated script language and complex tasks can be easily solved. The issued script can be stored on a MicroSD card which can also be used for updates or replicating configuration data for other grippers.
The WSG is available as WSG 050-110 with a stroke of 55 mm per finger and a long-stroke version type WSG 050-210 with a stroke of 110 mm per finger. Both grippers achieve gripping forces between 5 N and 120 N. The WSG 32 is compact and has been specifically designed for handling small parts. Jaw guidance is completely covered which allow for easy cleaning. Stroke per finger is 34 mm and grip force range is 5 - 50 N.
Featured Product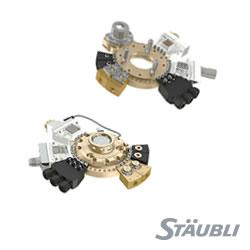 Stäubli is a pioneer in the construction and development of robotic tool changing systems. Our customers benefit from our many years of expertise in all industry sectors, as well as our modular product concept, which offers three efficient solution paths: MPS COMPLETE offers preconfigured robotic tool changers for immediate use. MPS MODULAR allows the user to determine the configuration, while MPS CUSTOMIZED allows the construction of special, application-specific systems.