Real-time fulfillment execution systems to manage order fulfillment process in booth #4409 at Retail's BIG Show
(CINCINNATI: Dec. 18, 2014)—Intelligrated® (www.intelligrated.com), a leading North American-based provider of automated material handling solutions and fulfillment execution systems, will showcase its range of automated order fulfillment solutions at NRF's Annual EXPO Jan. 11-13, 2015 at the Jacob K. Javits Convention Center in New York City. Visitors to Intelligrated booth #4409 can learn about fulfillment execution systems that provide real-time automated intelligence, along with voice picking, labor management software, business intelligence reporting and mobile cart picking to help maximize fulfillment efficiency and customer satisfaction.

The Intelligrated fulfillment execution system utilizes a software model designed for real-time responsiveness through adaptive, task-driven workflows to make decisions at the speed of automation. The system constantly analyzes order priority, inventory, labor, process and equipment information to manage operations for direct-to-consumer fulfillment, retail replenishment and multichannel fulfillment.
Datria™ Voice provides multilingual, hands-free picking commands to optimize productivity and yield more than 99.9 percent accuracy across a range of retail applications, including direct-to-consumer fulfillment. The intuitive system supports a wide range of smartphones and other non-proprietary devices and recognizes natural language for easy training and rapid user acceptance. The forward-looking technology adapts to a variety of fulfillment workflows and changing business requirements as retailers scale operations to meet seasonal peaks and sustained growth.
GoalPost® labor management software and InSite business intelligence software provide coaching and training tools, dynamic, actionable reporting and user-friendly analytics to maximize labor efficiency and improve distribution network performance. Booth visitors can view business intelligence dashboards on mobile devices that provide real-time intelligence and analysis, empowering management to make informed operational decisions on the floor.
"Intelligrated understands the competitive demands of retail distribution and has experience with more than 60 of the top 100 global retailers and 50 of the top 100 internet retailers," said Kevin Roach, executive vice president and general manager, Intelligrated software group. "The full range of fulfillment execution systems delivers the right level of automation for smarter, more productive distribution and fulfillment operations."
Booth attendees can also view a light-directed mobile picking cart demonstration that enables a single picker to fill multiple orders in one pass, improving throughput rates and ergonomics.
Intelligrated representatives at NRF booth #4409 can advise retailers on the right solution to meet e-commerce and retail demands for fast, accurate fulfillment. Multilingual booth support in Portuguese and Spanish is available.
To schedule a meeting at the show, email info@intelligrated.com.
For sales and marketing information, contact Karen Salles, senior marketing coordinator, Intelligrated, by phone at 513.881.5306 or by email at karen.salles@intelligrated.com.
For media information, contact Dan Gauss, public relations, Koroberi, by phone at 919.945.0527 or by email at dan@koroberi.com.
###
About Intelligrated
Intelligrated is a leading single-source provider of intelligent automated material handling solutions that drive distribution and fulfillment productivity for retailers, manufacturers and logistics providers around the world. Through a broad portfolio of automation equipment, software, service and support, Intelligrated solutions optimize processes, increase efficiency and give businesses a competitive edge.
Intelligrated designs, manufactures, integrates and installs complete material handling automation solutions including conveyor systems, sortation systems, palletizers, robotics, automated storage and retrieval systems, and order picking technologies - all managed by advanced machine controls and software. Solutions include industry-leading Intelligrated-manufactured Alvey, RTS™ and IntelliSort® brand equipment and Knighted warehouse management (WMS), warehouse control (WCS) and labor management software.
Every project is backed by Intelligrated's 24X7 multilingual technical support and access to lifecycle service through a network of national, regional and local service centers. From concept to integration to lifecycle support, Intelligrated automation delivers distribution and fulfillment success. For more updates, follow us on Twitter @Intelligrated.
Featured Product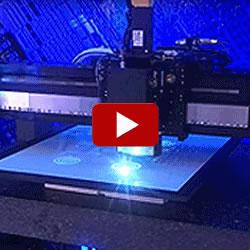 Hexapod micro-motion robots are based on a very flexible concept that can easily solve complex motion and alignment problems in fields including Optics, Photonics, Precision Automation, Automotive, and Medical Engineering.