LORD Corporation MicroStrain® Sensing Systems was recently selected by Energy Harvesting Journal for having the "Best Technical Development of an Energy Harvesting Device."
(Cary, N.C. - Dec. 5, 2014) - LORD Corporation MicroStrain® Sensing Systems - a global leader in developing embedded sensing systems for aerospace and industrial markets - was recently selected by Energy Harvesting Journal for having the "Best Technical Development of an Energy Harvesting Device."

LORD Microstrain was selected for the development of its On-Rotor Helicopter HUM (Health & Usage Monitoring) System Powered by Vibration Energy Harvesting. The award was announced on Nov. 20 at the opening day of the IDTechEx event. The winners this year were chosen by Peter Fuhr, Ph.D., Distinguished Scientist, Oak Ridge National Laboratory; Nikos B. Pronios, Ph.D., Lead Technologist - ICT, Technology Strategy Board; and Steve Halliday, President, RAIN RFID.
As noted in the award announcement, "though the technological principles behind magneto-inductive energy harvesters have been understood for many decades, the successful application of such a harvester to solve real-world problems presents many obstacles which LORD Microstrain successfully tackled, in order to develop this solution for Agusta Westland. It was developed in the initial phase of a project under its Rotorcraft Technology Validation Program, which aimed at development and testing of a wireless, self-powered sensor node that could operate on the main rotor rotating swashplate."
The goal of the On-Rotor HUM system is to monitor the temperature and vibration of the main swashplate bearing, as indicators of that bearings health. The system consists of a vibration energy harvester which powers a wireless sensor node integrated into a 90x50x50mm enclosure mounted on the rotating side of the swashplate. The sensor node conditions and collects data from two charge type accelerometers and an RTD, all mounted in close proximity to the swashplates main bearing race. The sensor node is configured to wake up and collect a temperature measurement every ten seconds. At ten-minute intervals it additionally collects a two-second burst of 4kHz data from both accelerometers. All data is transmitted wirelessly to a gateway in the cabin.
"Were very proud to be recognized by Energy Harvesting Journal for this exciting technology," said Stephen DiStasi, LORD MicroStrains Senior Engineering Manager. "Its another testament to our mission of providing innovative custom sensing solutions for our customers."
The energy harvesting wireless sensor node paradigm is enabling technology for making measurements on the rotorhead of helicopters. Other measurements such as pitch link strain (load) can be useful in assessing health and usage of a range of critical components. The same paradigm can be employed for a wide range of demanding measurement applications, such as industrial pump monitoring and other forms of vehicle monitoring.
About LORD MicroStrain
The range of LORD MicroStrain® sensing solutions includes inertial measurement systems, micro-displacement transducers, wireless sensor networks and energy harvesting technologies. Solutions range from rapidly deployed test and measurement to long-term embedded health monitoring. Applications include structural health monitoring, condition-based maintenance, navigation and control, environmental monitoring, and rotating component health. Recognized as a leader in the sensor industry, LORD MicroStrain has received numerous product innovation awards. For more information, visit http://www.microstrain.com.
Featured Product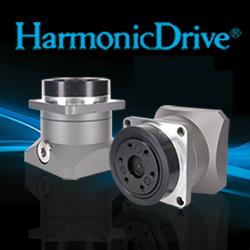 The SHA-IDT Series is a family of compact actuators that deliver high torque with exceptional accuracy and repeatability. These hollow shaft servo actuators feature Harmonic Drive® precision strain wave gears combined with a brushless servomotor, a brake, two magnetic absolute encoders and an integrated servo drive with CANopen® communication. This revolutionary product eliminates the need for an external drive and greatly simplifies wiring yet delivers high-positional accuracy and torsional stiffness in a compact housing.