RECYCLE RUSHSM Game Revealed by Dean Kamen to Nearly 75,000 High-School Students Worldwide at the 2015 FIRST® Robotics Competition Season Kickoff Students take advantage of opportunity to be mentored by world's best engineers Senator for New Hampshire Jeanne Shaheen (D-N.H.) noted: "Knowledge in science, technology, engineering, and math (STEM) subjects is the key to success."
MANCHESTER, N.H.--(BUSINESS WIRE)--Inventor and FIRST® Founder Dean Kamen launched the 2015 FIRST® Robotics Competition (FRC®) season today with the Kickoff of a new robotics game called RECYCLE RUSHSM before a crowd of more than 800 people at Southern New Hampshire University in Manchester, N.H., hometown of FIRST Headquarters. Nearly 75,000 high-school students on approximately 3,000 teams at 107 venues around the globe joined the 2015 Kickoff via live Comcast NBCUniversal broadcast.

"FIRST is more than robots. The robots are a vehicle for students to learn important life skills"
"FIRST is more than robots. The robots are a vehicle for students to learn important life skills," said Dean Kamen, president of DEKA Research & Development and FIRST Founder. "Kids often come in not knowing what to expect - of the program nor of themselves. They leave, even after the first season, with a vision, with confidence, and with a sense that they can create their own future."
RECYCLE RUSHSM is a recycling-themed game played by two Alliances of three robots each. Robots score points by stacking totes on scoring platforms, capping those stacks with recycling containers, and properly disposing of pool noodles, representing litter. In keeping with the recycling theme of the game, all game pieces used are reusable or recyclable by teams in their home locations or by FIRST at the end of the season.
"We are working hard to bring FIRST to more and more schools. We know how important it is for our economy (to do so)," said New Hampshire Gov. Maggie Hassan to attendees at Southern New Hampshire University. "As you recognize and nurture excellence, what you are doing is critical to the future of New Hampshire, the country, and the world."
At today's Kickoff, FIRST Robotics Competition teams were shown the RECYCLE RUSH playing field and received a Kit of Parts made up of motors, batteries, a control system, a PC, and a mix of automation components worth tens of thousands of dollars - and only limited instructions. Working with adult Mentors, students have six weeks to design, build, program, and test their robots to meet the season's engineering challenge. Once these young inventors build a robot, their teams will participate in one or more of the 105 Regional and District events that measure the effectiveness of each robot, the power of collaboration, and the determination of students.
"I get excited about the start of another FIRST competition season; and I get inspired watching you work as teams building and operating robots that perform incredible feats," said NASA Administrator Charles Boden. "Before we send humans to Mars and beyond, robots will lead the way. Your work will be a vital contribution to space exploration."
Sponsored by NASA, Comcast NBCUniversal, and Massachusetts-based PTC, the 2015 FIRST Robotics Competition Kickoff event is an opportunity for teams from all over the world to come together as a community to share in the excitement of seeing the new game unveiled. Teams at local Kickoffs in Australia, Brazil, Canada, Israel, Mexico, and the U.S. watched the proceedings via live broadcast.
"This is PTC's seventh year sponsoring the Kickoff, and it has been our greatest privilege as a company to be able to foster your development as engineers of the future," Jim Heppelmann, President and Chief Executive Officer of PTC, addressed students watching the broadcast. "The world of engineering has been on a decade's long journey of discovery, innovation, and possibility. With the skills you'll develop through FIRST, you'll be at the center of this exciting transformation."
For a replay of the Kickoff broadcast, click here. In addition, Comcast subscribers can view the Kickoff video from Monday, January 5 through the end of the month in the specials section of XFINITY On Demand.
To find FIRST Robotics Competition events and/or teams in your area, visit http://www.usfirst.org/whats-going-on.
About FIRST®
Accomplished inventor Dean Kamen founded FIRST® (For Inspiration and Recognition of Science and Technology) in 1989 to inspire an appreciation of science and technology in young people. Based in Manchester, N.H., FIRST designs accessible, innovative programs to build self-confidence, knowledge, and life skills while motivating young people to pursue opportunities in science, technology, and engineering. With support from over 200 of the Fortune 500 companies and more than $20 million in college scholarships, the not-for-profit organization hosts the FIRST® Robotics Competition (FRC® ) for students in Grades 9-12; FIRST® Tech Challenge (FTC® ) for Grades 7-12; FIRST® LEGO® League (FLL® ) for Grades 4-8; and Junior FIRST® LEGO® League (Jr.FLL®) for Grades K-3. Gracious Professionalism® is a way of doing things that encourages high-quality work, emphasizes the value of others, and respects individuals and the community. To learn more about FIRST, go to www.usfirst.org.
Featured Product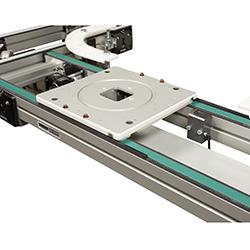 Dorner's 2200 Series Precision Move Pallet Systems are ideal for assembly automation. With features such as an innovative timing belt conveyor design and industry best pallet transfers, they get your product to the exact location, at the exact time and in the exact position it needs to be. They are now available with new options such as heavy load corner modules with 150 lb. capacity and 180 degree tight transfer corners for compact loops.