Targets co-investment of $5 million and kicks off Season 3 Summit
REDWOOD CITY, CA (PRWEB) January 13, 2015

F50 (Fundable 50), a private co-investment platform, today announces the 35 fundable startups selected to participate in its third season (S3). All F50 S3 companies will demo to an exclusive group of angels, fund managers and other accredited investors at F50s S3 Summit, a private event to be held at the Rosewood Sand Hill in Menlo Park. The S3 Summit marks the beginning of the investment matching process and the investors first opportunity to access F50 companies.
"Were pleased to showcase some exceptional companies in Smart Hardware, IoT, Robotics, 3D Printing, Smart Cities and Wearable technology," said Martin Stroka, Co-founder of F50. "Beyond S3, we look forward to hosting S4 in March, which focuses on gaming and entertainment. Well also be announcing a global competition for founders around the world together with top incubators, accelerators and other entrepreneur programs in the startup ecosystem. Additionally, well be enhancing our online integration to our offline network, which will provide a better experience to the broader entrepreneurial community."
F50 S3 features graduates from many leading hardware accelerators including Highway1, Lemnos Labs, Plug and Play, Silicon Valley Robotics, Wearable World and many others. F50 also welcomes more than 200 premier investors, including top funds in the U.S. and China as well as the venture arms of leading corporations.
"F50 Ventures works with our investor network to participate in co-investment. F50 is grateful to have dozens of excellent investors from Silicon Valley and around the world to participate in this selection process via our Investment Advisory Committee," said David Cao, Founding Partner of F50 Ventures.
F50s co-investment network aims to invest at least $5 million in this seasons selected companies. View the full list of F50 S3 startups at http://www.f50.io/s3/companies.
F50 (Fundable 50) is a private co-investment platform that identifies fundable startups and connects them with investors. F50 is supported by a global community of investors and operates the largest startup and developer communities (Silicon Valley Entrepreneurs, SF Founder Club, iOS, Android, IoT etc.) in the SF Bay Area. For more information, please visit http://www.f50.io.
Featured Product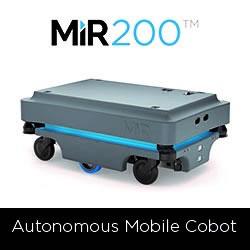 MiR200 is a safe, cost-effective mobile robot that automates your internal transportation. The robot optimizes workflows, freeing staff resources so you can increase productivity and reduce costs. MiR200 safely maneuvers around people and obstacles, through doorways and in and out of lifts. You can download CAD files of the building directly to the robot, or program it with the simple, web-based interface that requires no prior programming experience. With its fast implementation, the robots offers a fast ROI, with payback in as little as a year.