Mr. Yorsz will oversee all aspects of strategy and operations.
WALTHAM, Mass., Jan. 20, 2015 -- QinetiQ North America (QNA) today announced that it has appointed Jeff Yorsz as its new President. As President of QinetiQ North America, Mr. Yorsz will oversee all aspects of strategy and operations.

Mr. Yorsz joins QNA from Northrop Grumman where he was the General Manager of Adaptive Optics Associates (AOA), a supplier of mission critical systems to government, industrial and commercial customers. During his tenure at AOA, Jeff Yorsz drove significant growth and the transformation of the company in response to changing market conditions."
"Mr. Yorsz has a wealth of experience and demonstrated successes in the government and commercial markets," said Len Moodispaw, Chairman of the Board at QinetiQ North America. "I am confident that he will provide exceptional leadership to QNA."
"I am very impressed with both the products and the people at QinetiQ North America," said Mr. Yorsz. "Historically QNA has developed products in robotics, armor, controls, and sensors to solve some of the most difficult problems faced by government and industry. I look forward to continuing that tradition of innovation with our present customers and also leveraging it to invigorate our non-defense activities."
Mr. Yorsz holds several degrees from Massachusetts Institute of Technology (M.I.T.) including an Engineer's Degree in Electrical Engineering, M.S. in Electrical Engineering and a B.S. in Management.
About QinetiQ North America
QinetiQ North America (QNA) is a subsidiary of QinetiQ Group plc, the FTSE250 company listed on the London Stock Exchange (LSE:QQ.L). QNA delivers world-class technology and revolutionary products to the defense, security, commercial and transportation markets. Our products include unmanned systems, warfighter protection, power sensors and control systems and transportation safety solutions. Customers rely on QNA products to increase situational awareness, aid in personal safety, enhance security and streamline operations. QNA is headquartered in Waltham, Massachusetts and operates as the US arm of QinetiQ Group's Global Products division. For more information visit www.qinetiq-na.com.
Featured Product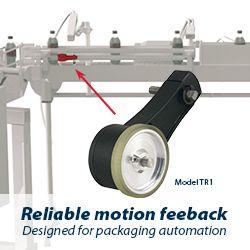 EPC is excited to announce our NEW online 3D Configurator. This new tool makes it even easier to configure EPC's products exactly how you need them for your application. The 3D Configurator interface is intuitive and works in any web browser for both desktop and mobile. It'll only take you a moment to learn your way around the program. Careful, though: it's so fun to play with, you may spend a whole afternoon on it!