The #Dronedance panel will discuss the ways film, TV and sports will be using UAVs and Jigabot's AIMe, a robotic camera auto-framing system, in the future. Movie studios, independent filmmakers, producers, videographers, actors and other professionals will learn the latest about this emerging industry.
HIGHLAND, Utah January 21, 2015

Jigabot, LLC, whose flagship product is AIMe, a robotic camera auto-framing system, can be mounted on a Quadcopter, drone or UAV, will host, #DRONEDANCE: The Panel about Drones and UAVs, at the Sundance Film Festival in Park City, Utah, January, 25, 2015, from 12:00 Noon to 2:00 PM.
Professionals who are interested in attending #DRONEDANCE can apply for a VIP Pass by clicking on this link: http://www.dronedance.splashthat.com
The #DRONEDANCE panel will discuss drone cinematography, safety and new regulations for this emerging industry. In September, 2014, the Federal Aviation Administration announced a landmark decision for the film industry and granted a waiver to six aerial photo and video production companies to use the UAVs in production. According to Christopher J. Dodd, chairman of the Motion Picture Association, the FAA's approval will contribute to job growth in the U.S. as more movies will be shot domestically.
AIMe is designed to have cinematic style.
The demand for the use of drones is growing and has been popular among producers of films, stage performances, action sports and commercials because they can fly in a sweet spot for filming that is too low for helicopters and too high for cranes. Donna Root, Jigabot Co-founder and Chief Strategy Officer, remarks, "AIMe is the only robotic camera auto-framing technology that can be used indoors and outdoors, at close and at far distances. It can be attached to a drone or Quadcopter, and can be used to track actors, performers, athletes or other objects. We are excited to be a co-host of the #DRONEDANCE panel and to demonstrate the exciting features of AIMe at Sundance 2015!"
If unable to attend, follow Jigabot's live feeds on twitter.com/Jigabot_AIMe facebook.com/Jigabot
"Our company was founded by professional filmmakers with a passion for art and technology," adds Rick Stout, Co-founder and CEO of Jigabot. "We know that AIMe will help professionals nail those difficult but amazing shots each and every time."
Jigabot will also present AIMe demonstrations at the Bang and Olufsen House Lounge by Emerge all week long. Actors, athletes, bands, singers, film makers, photographers, cinematographers, producers and media can request a VIP Pass by clicking on this link: http://emergelounge.com or by calling 385-207-3500
Sundance Institute co-founder Sterling Van Wagenen recently remarked, "Jigabot's AIMe makes it even easier for independent filmmakers to craft their stories on a small budget — which is perfectly in line with the spirit of Sundance."
Sundance Film Festival
The Sundance Film Festival is January 22 - February 1, 2015. The festival hosts more than 40,000 people a year and spreads out across four cities: Park City, Salt Lake City, Ogden and the Sundance Mountain Resort. http://www.sundance.org
Jigabot
Jigabot, LLC, develops software-driven robotic devices for home, work and play. Jigabot's flagship product AIMe is a robotic camera auto-framing system for smartphones and cameras that automatically tracks a moving subject in real time. Founded in 2012, Jigabot is headquartered in Highland, Utah. AIMe recently won Videomaker's "Most Innovative Product Award" and was listed on the "Best of CES 2014" list at 2014 International Consumer Electronics Show. http://www.jigabot.com
Featured Product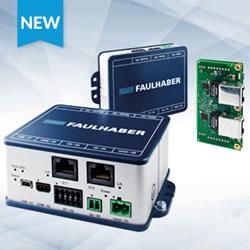 MICROMO launches the new MC3/MCS motion control family. The new high performance, intelligent controllers are optimized for use with FAULHABER motors, offer electronics for simple operation with state-of-the-art interfaces for multi-axis applications, and provide a motion control system solution with the most compact integration into industrial grade housing.