High School Students Design Innovative Real-World Solution for Monitoring Electrostatic Discharge in AMAXs Large-Scale Manufacturing Operations
FREMONT, CA January 27, 2015

FREMONT, CA, January 27, 2015- AMAX, a leading provider of OEM server appliances and data center/cloud infrastructure solutions, in collaboration with FIRST Robotics Competition (FRC) Team 1458 from Monte Vista High School in Danville, California, today announced an innovative product design that enables AMAXs server assembly operation to further AMAXs commitment to manufacturing quality with automated monitoring and detection of electrostatic discharge (ESD). The new design uses a standard ESD bracelet and analog ESD monitor with connectivity to an LED light pole to provide real-time automation and immediate identification of operators who do not have properly grounded ESD bracelets or get disconnected while working with electrical components.
ESD, if not properly dissipated, can cause failure in solid state electronic components such as integrated circuits. Often, these failures will not occur immediately and are not easily detectable. The failures typically occur within a couple of years, which is dramatically less than the expected mean time between failures (MTBF) for these types of components, thus shortening the lifespan of the overall product. As a leading ISO: 9001 manufacturer of data center/cloud products and OEM appliances for some of the top Fortune 500 brands, AMAX prides itself in its manufacturing quality and product reliability. Driven by a Kaizen policy of constant improvement, AMAX is continually looking for ways to lead the industry in raising the bar of quality standards.
AMAX has served as a corporate sponsor for Team 1458 (known as the Red Ties), a group of high school students passionate about robotics and engineering. Team 1458 has participated in FRC for nine years as part of FIRST (http://www.usfirst.org). FIRST, with its annual competitions, challenges teams of high school students to solve real world engineering problems in a short time. There are over 4000 FIRST teams around the world who compete in the annual challenge. Inspired by the students capabilities and interest in engineering, AMAX approached the team with a real world problem—how to build a real-time notification system monitoring ESD disconnection on a busy production floor that is responsible for thousands of mission critical server products every day.
"Some of todays biggest brands depend on AMAX servers and appliances in the field", said Allen Lee, VP of Operations, AMAX. "Were known for the high-quality and reliability of our products, backed by our industry-leading low field failure rates. Despite this, we are always striving for ways to continually address any possible issues that could affect our products post-deployment. We were excited to give these kids an opportunity to engineer a real product that could be implemented in a real world setting, and they created something that we will be able to implement in our production lines right away, with immediate impact. Its always exciting to see young people with passionate interests, and we have no doubt these kids will go far in their careers."
"In school, we learn a lot of theoretical principles. Our participation in FRC has allowed us to put those theories into practice, but in a game environment," said David Hungerman, student member of Team 1458. "This project with AMAX has taken that one step further and allowed us to understand these principles in a real-world situation."
"We are very proud of the members of Team 1458 for accomplishing this project with AMAX" said Jim Beck, California Senior Regional Director, US FIRST. "The mission of FIRST is to inspire young people to be science and technology leaders by building skills just like this. The fact that these students were able to put those skills into practical use so early in their careers is a testament to the success of FIRST. This just underscores that FIRST is about more than robots."
A video about this exciting project can be found at: http://youtu.be/tJlHYZYILxY
For more information about AMAX and its product lines, please visit http://www.amax.com. For more information about FIRST, please visit http://www.usfirst.org.
About AMAX
AMAX is a trusted leader in Datacenter, HPC and OEM Solutions in North America and has been recognized for many industry awards. Founded in 1979 and headquartered in Fremont, Calif., with locations in China to service the APAC region, AMAX is an open-architecture manufacturer specializing in innovative and scalable cluster, server and storage products developed for Datacenter, HPC, Cloud and Big Data applications. AMAXs mission is to provide best-in-class engineering, architectural design, manufacturing, global logistics & support to empower customers to solve the most complex computing challenges, handle massive amounts of data and meet product development demands to maintain a competitive advantage. As an Official OCP Solutions Provider, AMAX can build datacenter solutions using both standard and OCP architecture. Find out how your company can test drive the AMAX OCP Data Center Solution at http://www.amax.com/enterprise/OCPtestdrive.asp
About FRC
The FIRST (For Inspiration and Recognition of Science and Technology) Robotics Competition challenges teams of young people and their mentors to solve a common problem in a six-week timeframe using a standard "kit of parts" and a common set of rules. Teams build robots from the parts and compete in games designed by Dean Kamen, Dr. Woodie Flowers, and a committee of engineers and other professionals.
FIRST redefines winning for these students by rewarding teams for excellence in design, demonstrated team spirit, gracious professionalism and maturity, and the ability to overcome obstacles. Scoring the most points is a secondary goal. Winning means building partnerships that last.
Featured Product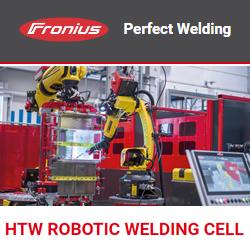 Modular, collaborative, and flexible: the "Handling-to-Welding" robotic welding cell joins parts of different geometries and materials. The task is carried out by two robots - the handling robot positions the workpieces, the second robot performs the welding. Depending on the cell configuration, lock gates are available for the inward and outward transport of parts. Furthermore, various positioners, a TCP measurement system, a torch cleaning system, a gripper station, and a contact tip change system are also possible.