Join artists, hackers, makers, DIYers and educators at the Boulder Mini Maker Faire at the Boulder County Fairgrounds.
Boulder, Colo. January 27, 2015

Launch paper rockets with the Denver Museum of Nature and Science. Design your own line of clothing with The Cotery. Play artisan pub games with Boxwood Pinball. Build robots with Modular Robotics. Fly drones, build catapults, help create a Lego Rube Goldberg machine, build a skyscraper with 10,000 Keva planks and construct a city from cardboard. The weekend of Jan 31 - Feb 1, 2015, there will be nothing like the Boulder Mini Maker Faire at the Boulder County Fairgrounds to distract you from your Super Bowl woes.
"Every one of the seventy-or-so makers is bringing a hands-on activity for you to play with," says Martha Lanaghen, co-founder of Maker Boulder, the organization sponsoring the event. "Whether youre into robots or 3D printing or crafts or catapults or clothing or crocheting or connecting with the education and entrepreneurial communities around Boulder, theres something for everyone of all ages. Come one come all - the Faire is coming to town!"
This year Boulder joins Denver and Loveland in hosting Mini Maker Faires, making the Front Range one of the densest areas in the country for the weekend-long celebrations of innovation.
"I mean, Boulder? Come on, its a no-brainer," says Lanaghen. "Look, were known around the country if not the world for our iconoclasts, our creativity, and our willingness to do cool things in new ways. The Boulder Mini Maker Faire is our chance to show it."
In addition to offering a place for makers to demonstrate their projects, Lanaghen and Maker Boulder hope it will help inspire what they call "mini makers" to explore Science, Technology, Engineering, Art and Mathematics (STEAM) education.
"Its just a celebration of awesomeness - a big party for everything you can do with your brain and your hands," says Lanaghen.
The Boulder Mini Maker Faire is open from 10a-5p on Saturday, January 31 and 10a-2p on Sunday, February 1 at the Boulder County Fairgrounds. Tickets, volunteer info and more are available at MakerBoulder.com.
About Maker Boulder
Maker Boulder is a community of tinkerers, hackers, prototypers, entrepreneurs and educators bringing STEAM education to the Front Range and beyond. Our mission is to connect Makers, Entrepreneurs and Educators. Through organizing events and creating content, were working with the Colorado community to create a symphony of STEAM activity that involves lots of hands-on learning, gears grinding, hackers iterating and tinkerers talking. Visit us at http://www.makerboulder.com and @MakerBoulder.
About Maker Faire
The launch of Maker Faire in the Bay Area in 2006 demonstrated the popularity of making and interest among legions of aspiring makers to participate in hands-on activities and learn new skills at the event. A record 195,000 people attended the two flagship Maker Faires in the Bay Area and New York in 2013, with 44% of attendees first timers at the Bay Area event, and 61% in New York. A family event, 50% attend the event with children. Also in 2013, 98 independently-produced Mini and Featured Maker Faires occurred around the world, including Tokyo, Rome, Santiago, and Oslo. Maker Faire is brought to you by Maker Media. Maker Media publishes MAKE magazine, produces Maker Faire, and offers DIY electronics, tools, kits, and books through its online and pop-up Maker Shed stores.
Featured Product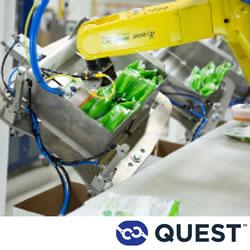 Quest is a leading manufacturer of industrial automation equipment focusing on robotics and vision-guidance. With expertise in the food, beverage, and dairy, Quest optimizes floor space for customers experiencing growing demand and helps improve their overall production line flexibility and efficiency. Quest offers application-specific software on their robotic products, including pick and place, case packing, and palletizing systems to simplify system setup and streamline configurability. Quest is a product brand of ProMach, a global leader in packaging line solutions.