Representing innovative positioning technology solutions in the construction industry dedicated to Building Information Modeling (BIM)
January 30, 2015

CADsoft Consulting Inc., a proven leader in the implementations of Design and Construction technologies for the last 24 years, today announced that they have signed a joint venture with the leading positioning distributor of Topcon's field scanners and robotic technologies, RDO Integrated Controls, a division of RDO Equipment Co. This synergy is made possible primarily due to high level collaboration at the root level between Autodesk Inc. and Topcon. CADsoft and RDO Integrated Controls' joint venture makes it possible for small and major construction trade partners to easily adopt and implement the most streamlined technology in construction industry today!
Topcon is a global leader in precision positioning technology and solutions and has designed their solutions to allow building and civil infrastructure construction customers to form a tighter, more seamless workflow that will increase on-site worker productivity, enhance jobsite safety, and improve quality control.
Additionally, Topcon and Autodesk, a leader in cloud-based design and engineering software for the construction industry, have collaborated to allow products, such as Autodesk Point Layout and the new BIM 360 Layout iPad app, for BIM to more efficiently interact with Topcon's LN-100 3D Layout Navigator. This provides greater interoperability between Autodesk's design solutions and Topcon field positioning hardware to connect workflows between the office and the field utilizing robotic total stations for construction positioning. As an Autodesk Authorized Gold Partner and an Autodesk BIM 360 Advisor, CADsoft Consulting has the expertise to provide a complete solution and create jobsite efficiencies by helping contractors more easily connect BIM output to field based implementation. These efficiencies reduce contractor error and re-work while speeding-up the overall installation process.
"By selecting to partner with RDO Integrated Controls, CADsoft Consulting continues to expand our innovative and advanced technology offerings to meet our customer needs," said Lisa Duncan, Principal of CADsoft Consulting. "Our customers are embracing BIM and have an immediate need for layout workflows to increase jobsite and project accuracy and substantially increase productivity as well. The LN-100 total station robot and Autodesk Point Layout software sits as the focus for the delivering these needs to our clients. With RDO Integrated Controls' expertise and guidance with positioning technology this can be quickly translated into real opportunities with our clients moving forward."
"As part of our business philosophy to be a total solutions provider in the positioning industry, we are excited about the strategic advantage that this partnership will allow customers. This is an opportunity to extend our services and continue to deliver superior results that will truly benefit the work our customers do," said Kelly Gress, RDO Equipment Co. Vice President.
About CADsoft Consulting
CADsoft Consulting is a proven leader in the implementation of architectural, engineering, and construction design technologies and workflow. With over 24 years of industry, business, and technical experience, CADsoft Consulting's unique services are sought after by leading architectural firms, engineering companies, manufacturing and mining, government agencies, and academic institutions. CADsoft Consulting is an Autodesk Gold Partner with specializations in Building, Civil Infrastructure, Advanced MEP, Advanced Structure, Process & Power, and Government. In addition, CADsoft holds Autodesk Consulting and Product Support Specializations and is an Authorized Training Center (ATC). For more information visit http://www.cadsoft-consult.com.
About RDO Integrated Controls
RDO Integrated Controls, founded in 2009, is a division of RDO Equipment Co. The division provides positioning solutions for customers in the construction, mining, engineering, survey, and landfill industries. For more information, visit http://www.rdointegratedcontrols.com.
About RDO Equipment Co.
Founded in 1968, RDO Equipment Co. is a family owned and operated company that provides and supports innovative solutions for John Deere agriculture, construction, lawn and garden; Vermeer; Topcon; and RDO Water customers. The organization, with headquarters in Fargo, N.D., employs more than 2,200 team members. The company has 70 sales and service locations in nine U.S. states and partnerships in Mexico, Russia, Ukraine, and Australia. Learn more about RDO Equipment Co. at http://www.rdoequipment.com.
Featured Product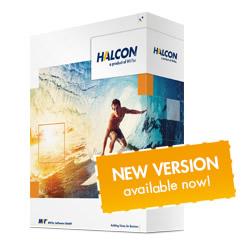 The newest version of MVTec HALCON is here to solve all of your machine vision tasks at utmost speed and robustness! Deep learning functions, like pixel-precise semantic segmentation or object detection, help you to identify and classify objects and flaws more flexibly and easier than ever before - HALCON extracts relevant image information automatically. Try it for free here!