China is already the world's largest market in the sale of industrial robots.
By 2017, more industrial robots will be operating in China's production plants than in the European Union or North America. Operating unit numbers there will double from today's 200,000 to more than 400,000. To compare: In North America, numbers will rise to about 300,000 - with 340,000 predicted for Europe's five largest economies. So says the International Federation of Robotics (IFR) in its 2014 World Robot Statistics.

China is already the world's largest market in the sale of industrial robots. But this merely marks the first step in a fast game of catch-up. Given China's still very low robotic density, the future market dimensions are palpably clear: To date, China only has 30 industrial robots per 10,000 employees in manufacturing industries. To compare: Germany's robotic density is ten times larger - in Japan it is actually eleven times more. In North America robotic density is five times higher than in China, where the majority of industrial robots are used for handling operations (40%) and for welding (36%). The automotive industry is by far the largest customer (approx. 40%).
"The automation of China's production plants has just started", says Per Vegard Nerseth, Managing Director, ABB Robotics. "As the first foreign robot manufacturer to arrive here, we have observed the market and developments for years now. We have witnessed swift, almost explosive growth over the last two or three years, surpassing even our expectations." Kuka and two Japanese robot manufacturers now also have their own locally-based production sites. Four out of five industrial robots in China are made by foreign manufacturers - the majority from Japan, North America and Europe. Yet more manufacturers are planning to build their own production lines in China.
The Chinese government is simultaneously pushing forward with robotic research. Once again the main partners are leading foreign robotic manufacturers. In contrast, Chinese manufacturers have concentrated on customers satisfied with average quality and unsophisticated technology. But sales in this segment have also more than tripled since 2012.
Featured Product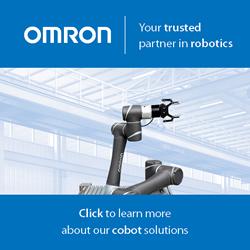 Humans and robots can now share tasks - and this new partnership is on the verge of revolutionizing the production line. Today's drivers like data-driven services, decreasing product lifetimes and the need for product differentiation are putting flexibility paramount, and no technology is better suited to meet these needs than the Omron TM Series Collaborative Robot. With force feedback, collision detection technology and an intuitive, hand-guided teaching mechanism, the TM Series cobot is designed to work in immediate proximity to a human worker and is easier than ever to train on new tasks.