Coldwater Machine Company has developed a new refill friction stir spot welding (RFSSW) system that can join aluminum, magnesium, non-ferrous and dissimilar sheet materials.
February 10, 2015

Coldwater Machine Company, a leading engineering solutions company that manufactures and integrates precision equipment and tools for multiple industries, has announced its new SpotMeld (TM) system, which is based on Refill Friction Stir Spot Weld (RFSSW) technology. This new solution, available from Coldwaters Solid State Joining Center, enables spot welding of aluminum (1000 - 7000 series), magnesium, non-ferrous and dissimilar sheet materials, offering an alternative to single-point joining processes like resistance spot welding, laser welding and riveting.
"With the move toward lightweighting, OEMs are all looking for the most effective way to cut weight without sacrificing quality or safety," said Tim McCaughey, Coldwater Machine president. "The existing technologies needed to process these lighter material typically add weight or cost, result in low weld strength, or have porosity defects. Our friction spot welding system overcomes these issues and is efficient enough to run in a production environment."
Coldwater Machines SpotMeld friction stir spot welders can be configured to application specifics and mounted on any industrial robot. A variety of weld recipes can be used on demand by the robot controller, which results in a very flexible production system.
Relying on RFSSW technology, the SpotMeld system uses rotational friction to heat the materials along with pressure to forge together the parts using wear-resistant tooling to join two or more surfaces. Basically, heat is generated between the tool and material, creating a soft region. Pressure is then applied, resulting in a solid state joint. In addition to its ability to join dissimilar and lightweight materials, benefits include high quality joints with a small heat affected zone, consistency in weld duplication and faster weld times, as well as being environmentally cleaner and safer with no filler material, spatter, smoke, radiation or shield gasses.
For more information on Coldwater Machines Friction Welding solutions, visit http://coldwatermachine.com/services/spin-welding
Coldwater Machine Company is a leader in the design, build and integration of specialized equipment for discrete manufacturing with extensive precision-machining capability primarily serving companies in the automotive, aviation, aerospace, appliance and energy industries that are producing products requiring tight tolerances. With over 50 years experience, the companys key competencies include precision machining and assembly, engineering support, design and build of specialized manufacturing equipment, and solid-state welding/joining systems.
Featured Product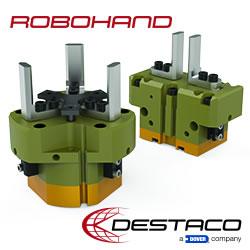 Destaco's Robohand RDH/RTH Series 2 and 3 jaw parallel grippers have a shielded design that deflects chips and other particulate for a more reliable, repeatable operation in part gripping applications ranging from the small and lightweight, to the large and heavy. RDH Series of Rugged, Multi-Purpose Parallel Grippers for Heavy Parts - Designed for high particulate application environments, automotive engine block, gantry systems, and ideal for heavy part gripping The series includes eight sizes for small lightweight to large/heavy part gripping. RTH Series of Powerful, Multi-Purpose Parallel Grippers for Heavy Parts - Designed for large round shaped parts, automotive engine block and gantry systems, and heavy part gripping. They're available in eight sizes for small lightweight to large and heavy part gripping.