Fetch Robotics will use the funding to bring their inaugural robots to market.
Fetch Robotics today announced that it has raised $3 million in Series A financing from OReilly AlphaTech Ventures (OATV) and Shasta Ventures. Fetch Robotics will use the funding to bring their inaugural robots to market. The robots will provide solutions for the logistics and light industrial markets, as well as for other human-robot collaboration opportunities.

Melonee Wise has been named CEO of the company. Prior to joining Fetch Robotics, Melonee was CEO and co-founder of Unbounded Robotics. Before that, Melonee spent approximately six years at the pioneering personal robotics company Willow Garage. All told, Melonee has nearly 15 years working in both entrepreneurial and engineering roles in the robotics industry, on both robotic hardware and software.
The first robots from Fetch Robotics will be introduced in Q2 of this year. To be notified when the robots are available, please email sales@fetchrobotics.com.
"Its exciting to have the opportunity for Shasta to invest in Fetch, as Ive been passionate about robotics for many years. The team, product, market opportunity, and timing are all in alignment for Fetch to be successful."
Rob Coneybeer, Managing Director at Shasta Ventures
"Fetch is comprised of a top-notch team focused on a substantial problem. They have both the entrepreneurial and technical know-how in order to solve some pressing problems in the world of logistics and light industry."
Bryce Roberts, Managing Director at OReilly AlphaTech Ventures
"Businesses and economic forces are charging ahead to make the world all on-demand all the time. The implications to the logistics industry given this trend are substantial and my team and I look forward to helping businesses address those challenges."
Melonee Wise, CEO of Fetch Robotics
Fetch Robotics is comprised of an experienced team of roboticists, spanning hardware, software, and design. The forthcoming robots will utilize and build upon ROS, the open source robot operating system.
Featured Product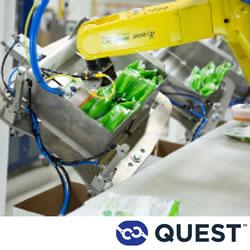 Quest is a leading manufacturer of industrial automation equipment focusing on robotics and vision-guidance. With expertise in the food, beverage, and dairy, Quest optimizes floor space for customers experiencing growing demand and helps improve their overall production line flexibility and efficiency. Quest offers application-specific software on their robotic products, including pick and place, case packing, and palletizing systems to simplify system setup and streamline configurability. Quest is a product brand of ProMach, a global leader in packaging line solutions.