Strengthens advanced manufacturing leadership and portfolio ---Extends global sales coverage, multiplexes cross selling opportunities ---Completes 3DS' software interoperability for 3D digital fabrication
ROCK HILL, South Carolina, Feb 11, 2015 - 3D Systems (NYSE:DDD) announced today that it has completed its acquisition of all shares of Cimatron Ltd. (NASDAQ:CIMT) for approximately $97 million, inclusive of Cimatron's net cash. The integration of Cimatron's software products into the company's portfolio strengthens 3DS' leadership position in 3D-printing-centric advanced manufacturing by enabling a seamless digital workflow between design and traditional and additive manufacturing processes. The transaction adds complementary technology, extends 3DS' sales coverage globally, multiplexes cross-selling opportunities and is expected to be accretive to the company's cash generation and Non-GAAP earnings per share for the full year 2015.

"Cimatron represents a perfect strategic fit for our business by providing expanded capabilities in product development, sales coverage and complementary technology. We believe that this combination offers unique synergies with significant long-term customer benefits and shareholder value," commented Avi Reichental, President and CEO of 3DS. "We are delighted to welcome Danny Haran and his entire global team to 3DS as we complete the digital thread from design to digital fabrication."
Cimatron is a leading provider of integrated 3D digital fabrication software for manufacturing. Cimatron's products are used by a growing number of companies worldwide for their 3D production molds, tools and dies in a wide variety of functional end-use manufacturing applications. With two world renowned products, CimatronE and GibbsCAM, Cimatron provides powerful digital fabrication tools for key manufacturing operations. CimatronE is an integrated CAD/CAM solution for toolmakers and manufacturers of discrete parts, which provides full associativity across the manufacturing process from quoting, through design and up to delivery. GibbsCAM, offers powerful yet simple-to-use solutions for programming any type of CNC machine tools, from simple mills and lathes, to the most complex multi-axis multi-tasking machines.
"With a 30 year track record of providing comprehensive, cost-effective solutions that streamline manufacturing cycles and shorten product delivery time, it is the perfect time to become part of 3DS where we can substantially accelerate our progress and extend our reach and impact," said Danny Haran, former CEO of Cimatron, who was named Executive Vice President and Chief Operating Officer, Software of 3DS.
Cimatron shareholders will receive $8.97 in cash for each ordinary share held by them as of the effective time of the merger. Cimatron has received the Israeli tax ruling that was described on pages 4-5 of its proxy statement for the extraordinary general shareholder meeting at which the merger was approved. Consequently, the withholding (if any) of Israeli taxes from the merger consideration will be carried out in accordance with the description of that tax ruling in the proxy statement.
As a result of the completion of the merger, the ordinary shares of Cimatron will be delisted from the NASDAQ Stock Market and deregistered under the Securities Exchange Act of 1934, or the Exchange Act. Cimatron will cease filing reports pursuant to the Exchange Act, and trading in its ordinary shares will be halted before the open of business on February 9, 2015.
Learn more about 3DS' commitment to manufacturing the future today at www.3dsystems.com
Featured Product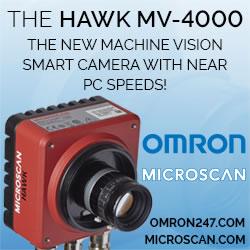 Awe-inspiring power and superior flexibility is sheathed within the contoured casing of the HAWK MV-4000. This smart camera builds upon the previous generation by quadrupling processing power and achieving real-time trigger response using an FPGA. Its state-of-the-art algorithms make it an excellent tool for any industry, whether the requirement be code reading, code verification, inspection, guidance, gauging or a combination of all four.