Aerospace and defense manufacturing conference and exposition takes place April 20-23 in Dallas
DEARBORN, Mich. February 12, 2015

In the future, commercial aircraft, defense programs and even production lines will be conceived, produced and maintained in a digital environment that will greatly reduce costs and increase affordability. Lockheed Martin, which is pioneering the concept of the "Digital Tapestry" in aerospace manufacturing, will deliver a keynote on the subject at AeroDef Manufacturing Conference + Exposition, with Composites Manufacturing, April 20-23 (exhibits April 21-22) at the Hilton Anatole, Dallas.
The Digital Tapestry is based on the concept of a "Digital Thread" that connects model-based engineering with advanced manufacturing tools, such as additive manufacturing/3D printing, to weave technology together at every stage of the product design and production process.
"Our goal is to not break one single thread within that Digital Tapestry," said Dennis O. Little, vice president, production, Lockheed Martin Space Systems Co., who along with his colleague Mark A. Pasquale, vice president, engineering and technology, will speak at AeroDef 2015 on Wednesday, April 22. "If we can accomplish that, we can significantly reduce cycle time to market, reduce nonconformance and become more affordable in getting the solutions to the mission."
Manufacturing professionals at Lockheed Martin are now using tablet computing to access and interact with digital models of products. Advanced projection systems can display work instructions directly onto the product itself to assist in assembly. Innovations in structured light and photogrammetry allow the company to digitally piece together thousands of images to create a highly accurate model of a final product.
AeroDef 2015 features keynote speakers and panel discussions on the most promising technologies, including flexible manufacturing; an exposition floor arranged by seven technology zones; additive manufacturing/advanced materials resource center; tours of regional aerospace manufacturers; and a comprehensive technical conference.
Conference tracks include Additive Manufacturing/3D Printing; Composites & Advanced Materials; Contract Manufacturing Services; Integrated Assembly & Robotics; Precision Machining & Tooling; and Quality, Measurement & Inspection.
Registration for the exposition - which includes access to the exhibit floor, keynote speakers and panels - is free of charge if you register in advance. Visit aerodefevent.com/papers to download complimentary SME technical papers on aerospace manufacturing, including the drilling and machining of composites and advanced materials.
For more information about attending, exhibiting or presenting, visit aerodefevent.com or call 800.733.3976. For the most up-to-date details, follow @AeroDefMfg on Twitter or join the LinkedIn AeroDef discussion group.
About AeroDef Manufacturing
AeroDef Manufacturing - Collaboration for the Future of Aerospace, is the leading technical conference and exposition for the aerospace and defense manufacturing industry. Produced by SME in partnership with industry OEMs, its mission is to foster innovation across the extended enterprise to reduce costs, expedite production times and maintain U.S. competitiveness in the global economy.
About SME
SME connects all those who are passionate about making things that improve our world. As a nonprofit organization, SME has served practitioners, companies, educators, government and communities across the manufacturing spectrum for more than 80 years. Through its strategic areas of events, media, membership, training and development, and the SME Education Foundation, SME is uniquely dedicated to the advancement of manufacturing by addressing both knowledge and skill needs for the industry. Follow @sme_mfg on Twitter and facebook.com/smemfg.
Featured Product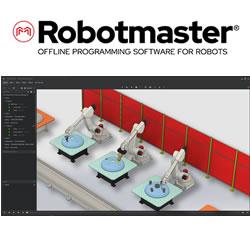 Robotmaster delivers unmatched, full-function off-line programming capability for robots - easy programming of precise robot motion control and quick generation of path trajectories of any size, with minimal programmer intervention. Our strong background in CAD/CAM (Computer Aided Manufacturing) software has enabled us to bring a revolutionary approach to programming industrial robots.