With the robotics industry more competitive than ever, new companies are popping up all the time.
FRAMINGHAM, Mass., Feb. 16, 2015 -- Robotics Business Review (RBR) has unveiled its fourth annual RBR50 list comprised of the most noteworthy public and private companies in the global robotics industry for 2015. With the robotics industry more competitive than ever, new companies are popping up all the time. Of those companies, the RBR50 list outlines those who should be kept on your business radar.

These visionaries were recognized based on their innovation, groundbreaking application, commercial success and potential, and represent many different levels and facets of the robotics ecosystem.
This international compilation spans 11 countries and in addition to the large conglomerates, 20% of the list is comprised of lesser-known startups. The RBR50 list is dynamic, with robotics companies entering and leaving on an annual basis and thus creating a list that is indicative of where the global robotics industry as a whole is headed. "2015: Year of the Inflection Point in robotics. What a great time to be counted among the global best in the fastest rising industry in the world. Once again, the robotics community has done a stellar job in selecting those few to represent all," says Tom Green, RBR Editor in Chief.
RBR tracks each of these 50 companies throughout the year on their interactive company pages. This creates a one-stop shop for reporting on their partnerships, product pipelines and business growth to keep readers informed on where each company stands in the market and why. Regularly checking on the RBR50 can offer a fascinating bird's-eye view on the direction of the entire industry.
ABOUT ROBOTICS BUSINESS REVIEW:
Robotics Business Review is the #1 resource reporting and analyzing up-to-the-minute business and technology developments - plus financial transactions - taking place across the fast-changing landscape of global robotics. Members enjoy in-depth reporting, breaking news, RBR50 profiles, a member-only newsletter, key financing alerts, insights on future trends and access to exclusive research reports. Learn more at RoboticsBusinessReview.com.
Featured Product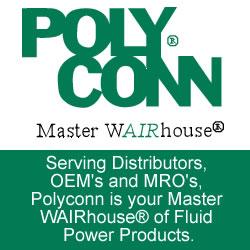 We can produce pneumatic hose and other pneumatic products to match your exact specifications. Our proficient engineering and quality management, coupled with outstanding customer service means Polyconn delivers high quality pneumatic components at competitive prices. Place your order or contact Polyconn for more information on our pneumatic hoses, pneumatic manifolds, Duratec® Pipe or any of our other top quality pneumatic products and components.