The competition will run from March to June 2015 and will showcase how quickly products can be designed with ARM CMSIS software components and middleware.
CAMBRIDGE, United Kingdom--Technology entrepreneurs can register starting today to compete for a $10,000 prize fund in an ARM sponsored contest to create a smart domestic or industrial device based on an ARM Cortex-M4 processor. The competition will run from March to June 2015 and will showcase how quickly products can be designed with ARM CMSIS software components and middleware.

The goal is to create a device fulfilling any function in areas such as home automation, measurement, the Internet of Things or system control. Contest registration starts today and ends March 31, 2015. Around 100 innovative projects will progress into the next round. Each will receive professional software development tools, a debug unit, hardware containing a Cortex-M4 processor-based microcontroller and peripheral components. The competitors can choose from platforms provided by Freescale, Infineon, NXP or STMicroelectronics.
Final prototype designs for the Microcontroller Design Contest for ARM Cortex-M processor-based devices must be submitted by June 30, 2015. The winners will be announced in October 2015, with five prizes awarded from $500 to $5,000.
"The contest will demonstrate how standardized components and readily available software now make it far easier and faster for designers to create smart products," said Reinhard Keil, director, microcontroller tools, ARM. "New technology invention was previously the domain of those with advanced processor knowledge and access to funding. That has changed now because of the tools and solutions ARM and its partners are providing and that has led to the rapid evolution of a vibrant new developer industry."
Participants will receive a complementary license for the ARM Keil MDK Microcontroller Development Kit - Professional Edition, the industry-leading software development environment for Cortex-M based microcontrollers. Competitors can use proven pre-built software components such as CMSIS, RTOS, communication stack, file system, graphical user interface to accelerate software development. Developers may also add hardware components and use standardized CMSIS drivers, for example to utilize communication interfaces such as I2C, SPI and USART.
To further help designers, ARM is introducing a new learning platform to provide expert knowledge and useful coding examples. Four different template applications are also available demonstrating various peripherals and middleware for TCP/IP networking, USB device, USB host, file storage and graphical user interface design. These show:
* Data acquisition from live sensor data on a web interface recording to a SD card
* Data logger recording digital and analogue inputs and control via USB device interface
* Audio recording using SPI memory and controlled using a web interface
* Display with touch-screen example that outputs a text file from a USB memory stick.
Partner quotes
"The Freescale Kinetis microcontroller portfolio offers the leading ARM based microcontrollers and we are excited to sponsor this contest with the Freescale Freedom development platform, FRDM-K64F, based on the Kinetis K6x MCU family," said Michael Norman, software and tools product manager, Freescale Semiconductor. "The FRDM-K64F platform is a general purpose prototyping board packed with features, including Arduino-compatible connectors, on-board Ethernet and USB, an accelerometer and a magnetometer, and large on-chip RAM and Flash resources—giving software and hardware engineers a robust platform on which to demonstrate their skills and knowledge."
"With its powerful peripheral set the Infineon XMC4500 microcontroller series based on the ARM Cortex-M4 processor is the ultimate choice for industrial control solutions," said Maurizio Skerlj, senior director, industrial and multimarket microcontrollers, Infineon Technologies. "Combining the new CMSIS drivers with the related middleware and the XMC peripheral library makes it possible to create efficient applications that utilize USB, TCP/IP communication, and a file system. Moreover, the code for the application can be generated and configured using the free Infineon development platform DAVE."
"The asymmetric dual-core architecture of the LPC4300 series combines an ARM Cortex-M4 and Cortex-M0 processor to allow custom task partitioning for higher performance and efficiency," said Ken Dwyer, director, applications engineering, NXP Semiconductors. "Our LPC4330-Xplorer kit implements Ethernet, dual high speed USB, and memory card interfaces as well as audio codecs. Combining these peripherals with the DSP capabilities of the LPC4330 allows you to design smart control applications in areas like audio processing and streaming."
"ST has a portfolio of over 600 ARM Cortex-M based microcontrollers and contestants undertaking the ARM challenge are being offered the STM32F429, a high-performance Cortex-M4 processor based device," said Laurent Desseignes, microcontroller ecosystems marketing manager, STMicroelectronics. "The STM32F429 Discovery Kit has a graphic display, SDRAM and motion sensors and is suitable for any general-purpose embedded application. The Keil MDK from ARM fits this hardware platform particularly well and the software also links to STs STM32Cube which helps designers to release their creativity and deliver some great innovation."
Featured Product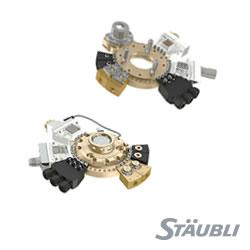 TX2 robots: redefining performance by offering collaborative safety and high performance in a single machine. These pioneering robots can be used in all areas, including sensitive and restrictive environments, thanks to their unique features. Safety functions are easy and inexpensive to implement. They allow a higher level of interactions between robots and human operators, while still guaranteeing protection of your people, production and investment.