Wrobel Engineering of Avon, Massachusetts has completed capital improvements equipment, technologies, facility, and workforce that increase capacity and efficiencies in its custom metal machining and sheet metal fabrication business. Improvements will drive continued Company growth in the military, medical, and aerospace industries.
Avon, Massachusetts February 17, 2015

Wrobel Engineering (Wrobel) is pleased to announce the completion of its 2014 Capital Improvement Plan targeting new technologies, equipment upgrades, facility improvements, and workforce initiatives. Investments were fully self funded and position the company for continued expansion into new markets in 2015.
"Our 2014 capital improvements were designed and implemented to achieve key 2015/16 business goals," said Ed Wrobel, Vice President of Operations. "However, these investments also reflect our long-term and ongoing company policy of staying on the leading-edge of CNC machining and metal fabrication technologies. Our strength and ability to fund improvements independently gives us the competitive advantage to respond quickly to industry changes, customer needs, and new opportunities."
Technology improvements:
* Renishaw Probing: onboard inspection for three CNC milling centers, significantly reducing setups and downtimes and enabling increased productivity and batch size flexibility.
* CAD Software: Updates for eight workstations to all current versions of Pro-E, Solidworks, and Epicor E9 for enterprise resource planning (ERP System), ensuring maximum efficiency and complete compatibility for all client needs.
Equipment improvements:
* Installation of three new Hurco Milling Centers, effectively doubling capacity and significant reducing delivery times for orders of any size.
Facility improvements:
* Construction of self-contained area for parts inspection, with sound and vibration controls, and independent utilities and ventilation enabling highest-level calibration of QC equipment.
* Installation of four new HVAC units for humidity control (materials rust prevention) and improved environment (workforce performance and productivity).
Workforce initiatives:
* Establishment of relationships with two regional Technical Vocational High Schools with funding for seasonal employment positions and continuing education internships (college level).
Said Elizabeth Wrobel, President of Wrobel Engineering, "Our 2014 initiatives strengthen our manufacturing positions in the data storage, telecommunications, robotics, and controls industries; and will drive our continued expansion into the military, medical, and aerospace sectors. In 2015 and beyond, we will continually invest in the quality of our workforce and our facility for one purpose: to meet the needs of our customers."
For more information or to schedule a tour of the Wrobel Engineering facility, please contact Michael Long, Operations Manager, at 774-296-8339, mlong(at)wrobeleng(dot)com, or visit http://www.wrobeleng.com. "Come as a visitor, leave as a customer."
About Wrobel Engineering
Established in 1976, Wrobel Engineering is now a global, full-service resource for precision CNC machining and sheet metal fabrication services including engineering, prototyping, tool & die, silk screening, electromechanical assembly, kitting, and kanban. Our staff and state-of-the-art 60,000 facility are tested and driven by the most stringent quality certifications in the industry including ISO 9001-2008, ITAR, UL, SixSigma, and PPAP. Our company and the products we make represent the finest in American-quality manufacturing.
Featured Product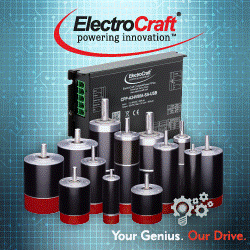 ElectroCraft exhibits its motion control product offer at Robotic related events at trade show and demonstrations across the world. We attend these events and conferences not only to show our motor and drive product offering, but to discuss and learn more about challenges involved with developing commercial robotics across markets.